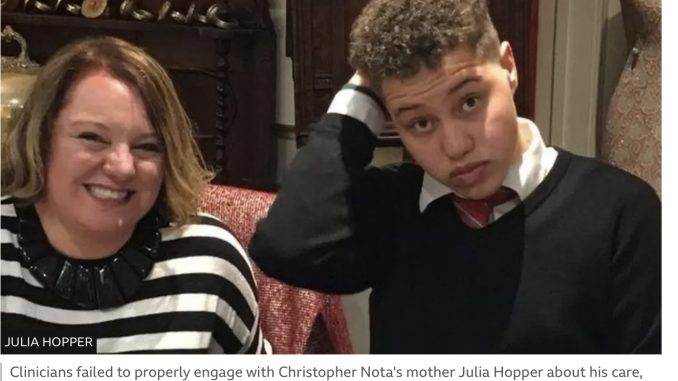 The mother of an autistic teenager who died days after being discharged from a mental health unit said more deaths would occur unless care was improved.
Christopher Nota, from Southend, died in 2020 after falling from a bridge.
A coroner said a lack of awareness around autism contributed to his deathand mother Julia Hopper said "a million chances were squandered" to help him.
Essex Partnership University NHS Foundation Trust (EPUT) said it had put in place measures to improve its care.
Mr Nota, 19, was under the care of EPUT, which provides mental health services.
The teenager, who had been admitted to hospital several times over three months, died from multiple injuries on 8 July 2020.
Ms Hopper said she was critical of her son's treatment and a lack of communication from EPUT.
She has campaigned with other bereaved families for better treatment for people with autism suffering mental health issues, and called for a statutory public inquiry into Essex mental health services.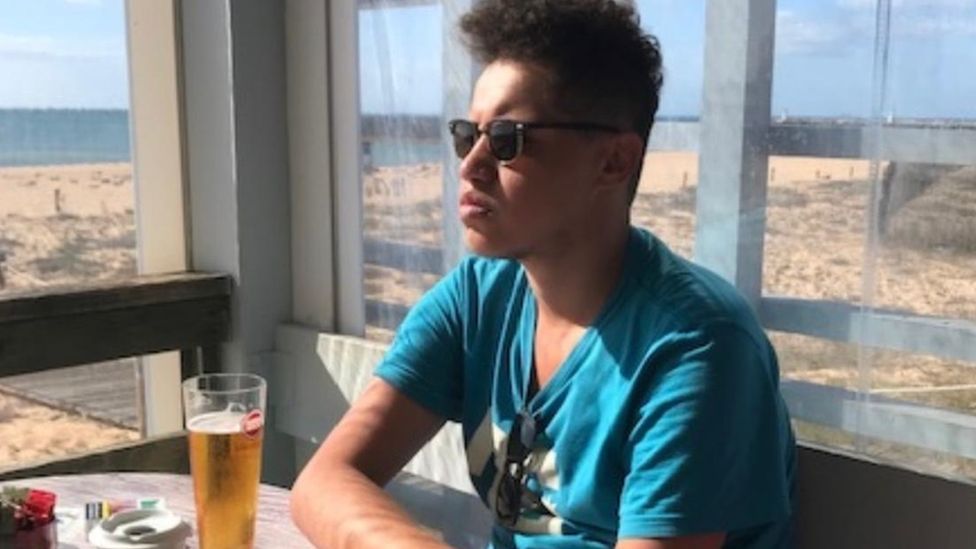 At Mr Nota's inquest, coroner Sean Horstead described Ms Hopper as an "under-employed resource" when it came to contributing to her son's risk assessments, safeguarding, care plans and capacity assessments.
She said: "It feels to me like there were a million chances to get it right, or even attempt to get it right, and yet a million chances were squandered in my eyes. And it's incomprehensible. It takes so much more than one mistake to fail someone."
Part of the failure, she believed, lay at the trust, which she said "shut off communication" and ignored her concerns her son was going to take his own life.
'Horror movie'
Ms Hopper said her son made two suicide attempts while under the trust's care, which she only discovered in files after he died, describing it as "horrifying".
"It is like being in a horror movie, cut off from the person you love, who you know is suffering and who is very high risk," she said, adding she felt "treated like I was the enemy, something sinister, an obstacle".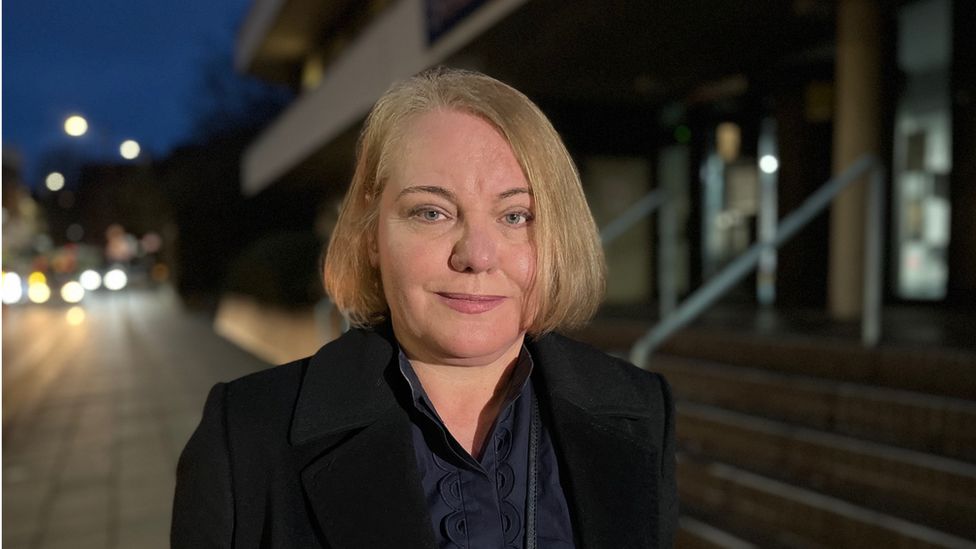 Concluding the inquest, Mr Horstead said there were "significant concerns" about the "fundamental misunderstanding of the vulnerability of those suffering autism spectrum disorder".
He said there had been a "lack of autism-focused approach" to risk assessments and care planning and that safety concerns had not been shared by medical staff.
'Great risk'
Ms Hopper said her son was failed by clinicians who did not understand his needs.
She said carers and parents needed to be consulted as they could be in a better position to notice nuances in behaviour and read between the lines to identify risk.
"There are no shortage of people like Christopher, he wasn't a one off," she said.
"Christopher's inquest has shown we need to dig very deep to really get to the root of what's going on.
"Autistic people, when they're unwell, for example, they can mask it and that places a great risk. They will say they're fine because they want everyone to go away and they're too overwhelmed.
"There are vulnerable people today, right now, who are going to die because of the same issue."
Mr Horstead said he believed the lack of understanding regarding autism and the impact on mental health was not related to Essex alone, but instead likely a national issue.
Please follow and like us: