"IF THE GOVERNMENT WANTS PEOPLE TO THINK THEY ACTUALLY CARE ABOUT MENTAL HEALTH, THEY NEED TO LISTEN TO THE 70 FAMILIES IN ESSEX WHO HAVE SUFFERED / LOST LOVED ONES, NOT IGNORE THEM"
The families of 70 individuals who died or were severely mistreated whilst in the care of mental health services in Essex have had their most recent plea for a statutory inquiry dismissed by Nadine Dorries, Minister of State for Mental Health, Suicide Prevention and Patient Safety.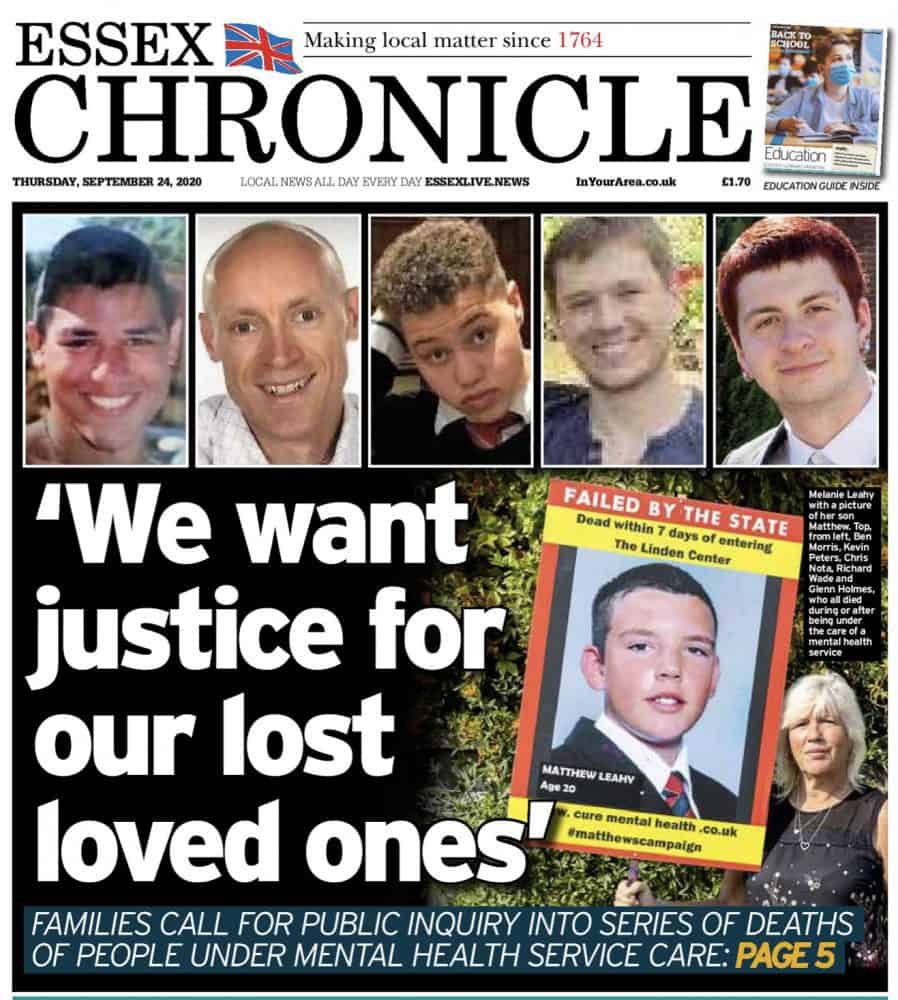 In February the families, who have campaigned for years to find out why their loved ones died whilst in care, once again wrote to Nadine Dorries to ask her to overturn her decision for a non-statutory inquiry in favour of a full statutory inquiry. A statutory inquiry would be in the public forum and broad enough in scope to allow a sufficient level of scrutiny into the culture of current investigations into deaths in mental health settings. Most importantly, non-statutory inquiries lack the legal powers to compel witnesses to attend to give evidence under oath, and therefore cannot be relied upon to deliver a comprehensive and meaningful account of events.
The letter also addressed the families' concerns over Ms Dorries' chosen Chair for the inquiry – an individual who has held a leadership role in relation to NHS and CQC services provided across England, including Essex. It is the families' concern that in no way is it appropriate to have the NHS investigating itself, nor is it in any way independent of the NHS' interests.
Nadine Dorries' lawyers have now responded to the family's letter – in just four sentences – to say Ms Dorries refuses to engage further on the request for a statutory inquiry.
Melanie Leahy, whose son Matthew was found hanging within one week of being admitted to the Linden Centre in Chelmsford in 2012 responded to the letter by saying:
"The government letter is an insult and a dismissal. The irony of Ms Dorries' job title astounds me – I would laugh, if our situation wasn't so horrific. She has no regard for Patient Safety whatsoever and it is a joke that she be tasked with looking after the nation's wellbeing. Our loved ones lost their lives as a direct result of a catalogue of failings both in mental health hospitals and in the community in Essex, but the same failings and multiple deaths are happening all over the country, everywhere.
"If Nadine Dorries was even half the individual the UK needs to help tackle mental health, she would have pushed for a full public and statutory inquiry – that's the only way we're going to get to the bottom of what happened. As it is, the country has someone pushing the government's 'very important' agenda on mental health who, actually, doesn't care one bit.
"The limited inquiry she is calling is so irrelevant to the larger public health crisis, how on earth she expects it to establish patterns of failure and map them in order to preserve precious lives is beyond me."
She added:
"Our letter was comprehensive and detailed. Ms Dorries ignored every representation we made and her abysmally brief response has not addressed any of our points. My son died in 2012 and I still don't know why. I'm not just one mother and this is not just a one-off, I am one of 67 families – this is a devastating trend across Essex which must be investigated and stopped. Or how many others are going to die whilst she pays lip service to a cause she doesn't believe in?"
Melanie Leahy is leading the group campaign for justice, with more families joining the 67 each week.
The call for a statutory public inquiry is backed by Barbara Keeley MP (Worsley and Eccles South), Dr Rosena Allin-Khan MP (Tooting), Kim Johnson MP (Liverpool Riverside), Mike Hill MP (Hartlepool) and a host of household names, including; the charity Young Minds, presenter Carrie Grant MBE, the Citizens Commission on Human Rights, broadcaster Sean Fletcher, and the campaign group Hundred Families. Messages from these supporters can be found below.
The families are represented by Hodge Jones & Allen Solicitors. Priya Singh, solicitor at the firm, said:
"Ms Dorries' response is not only profoundly disappointing but also extremely insulting, as she seems determined to completely ignore the wishes of the majority of the families and individuals affected. The families' stories are heart breaking and difficult to hear, no one who engages with them could fail to appreciate the truly awful situations they have been through. If we cannot get the government to respond appropriately on mental health, something which is increasingly urgent across the nation, we will have to consider what our next step will be – namely, to make an application for a judicial review of Ms Dorries' decision. The independent inquiry, as she proposes it, is toothless. We must put the lack of accountability, transparency and learning by the mental health service providers in Essex under proper scrutiny as that is the only way to bring about change.
"A full public statutory inquiry would not only provide answers to these families, but would benefit the whole of the UK. To reveal and examine the errors within mental health services will deliver an accountability which ensures they do not happen again, keeping people safe when they need it most. If the government wants a legacy besides COVID-19, better mental health care should be it."
INQUEST, which has supported the families' fight for justice, said:
"It is more vital than ever that the failures in care and accountability are addressed. A review conducted behind closed doors and without effective participation of families is insufficient to address these grave, repeated and systemic failures. The state has a duty to prevent future deaths, and it needs a public inquiry into the situation in Essex to achieve this. This is in the interests of us all. The grief and trauma of families is being exacerbated by the failure of the Minister to listen."
For further information, please contact:
Yellow Jersey PR:
Georgie Whittle
georgina@yellowjerseypr.com
T: 0808 239 2247 | 0808 239 5975
Alex Crean
alex@yellowjerseypr.com
T: 0808 239 3996 | 0808 239 5975