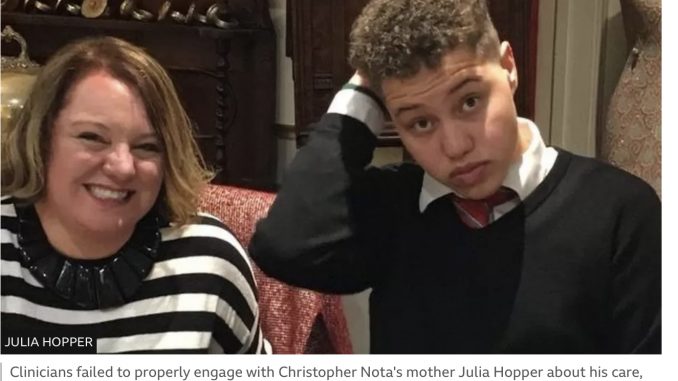 The mother of a teenager who died after being failed by the care system will meet the shadow mental health minister to press for a public inquiry into local mental health services.
Chis Nota, from Southend-on-Sea, fell from a bridge shortly after he was discharged from a mental health unit.
The 19-year-old, who was autistic, had been under the care of the Essex Partnership University NHS Foundation Trust in Basildon and Southend before he died in July 2020.
His mother told ITV News the trust must be held to account.
"My son was admitted to a ward and the very first thing Melanie [friend and campaigner] said was he is going to die," Julia Hopper said.
"And my answer was yes, I know. Normally someone would say how dare you say that.
"But given what we had seen at that point it was fair comment."
At an inquest the coroner said the increased vulnerability of people with autism had not been recognised by the majority of staff caring for Chris Nota.
Melanie Leahy's son Matthew died in 2012 under the care of Essex Partnership University NHS Foundation Trust and has been campaigning for ten years to look deeper into Essex mental health services.
"Aged 20, Matthew went into crisis and did what we are told to do – he asked for help.
"He was sectioned and went to the Linden Centre in Chelmsford.
"I was told not to visit for seven days. I never saw my son alive again. He was found hanging in his room."
Julia and Melanie are working together on behalf of dozens of other bereaved families and are calling for a statutory public inquiry.
Melanie added: "Currently the government has commissioned an independent inquiry which does not have the power to compel witnesses under oath and does not have the power of full disclosure of evidence.
"The only way we are going to bring about meaningful change and get to the truth of why so many vulnerable people are dying is with those meaningful statutory powers."
Chris's family, and the others bereaved will meet next month with the shadow mental health minister to discuss their cause. 

Please follow and like us: