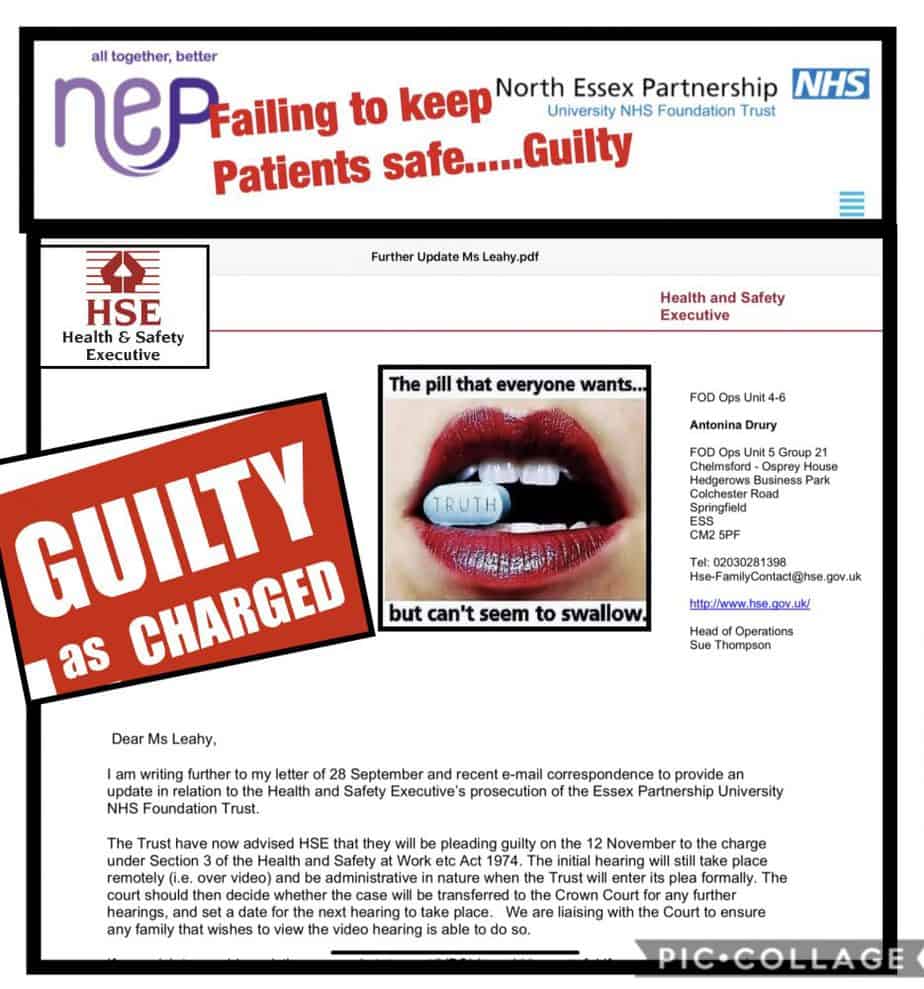 HSE investigation into North Essex Partnership University NHS Trust
I started writing to HSE in 2014. Numerous times, and can't express to you what a battle it was to get them to listen to me.
I was initially ignored for weeks / months, despite sending repeat emails.
Then involved my MP Priti Patel and she started writing too.
In the end told, ' no nothing to do with us.' CQC now looking into health and safety. MP Priti Patel wrote to me too and said she had done all she could.
I wasn't giving up.
I wrote to the CEO Richard Judge directly. Explained what had happened how I understood that CQC now in charge of health of safety from April 2015, but my son had died in 2012. This was an Hse issue! And all this delaying and no action, two more young men had died by the same means as my son.
Finally, a small crack in a door opened.
A man from HSE offices in Chelmsford contacted me.
He told me initially he looked in my son's file and it was empty! Empty??
Then he came back to say, sorry Melanie. It's not empty, it doesn't even exist!
This led to a meeting with him, at HSE offices in Chelmsford. My evidence ( I had collected masses of it) being copied over two very long days by numerous staff.
Four massive boxes of huge files, four staff working constantly and fifteen hours later.
Then another wait, until finally, yes finally in July 2016 I was notified a fatal death investigation was beginning into Matthews death.
This , now has been changed to a group investigation into safety failings that have been allowed to continue for years, leading to so many deaths.
So to date since first notifying HSE of a problem with safety at the Linden Center it's just over six years.!!!!
Onwards…….
HSE say………

Since November 2016, HSE has been investigating how the Trust managed mental health ward environments in relation to potential ligature points between October 2004 and March 2015, at which time the Care Quality Commission took on the lead regulatory role for patient safety.
Since January 2017, Essex Police, with the support of HSE, has carried out its own parallel investigation into patient deaths and has now confirmed this inquiry has concluded.
A HSE spokesperson said: "Our thoughts remain with the families involved and we fully recognise the importance of their dialogue with Essex Police in light of these developments.
For two years, we have been fully investigating whether health and safety laws have been breached. At the conclusion of our investigation, we will consider whether any charges should be brought.
"We want to be clear about our remit, which is different to that of the police, and it is unlikely our investigation will conclude in the next six months. We are working hard to keep the families informed, and will continue to update them as the investigation progresses."
29/09/2020 PROSECUTION ANNOUNCED
https://curementalhealth.co.uk/hse-to-prosecute-essex-partnership-university-nhs-foundation-trust-eputnhs/