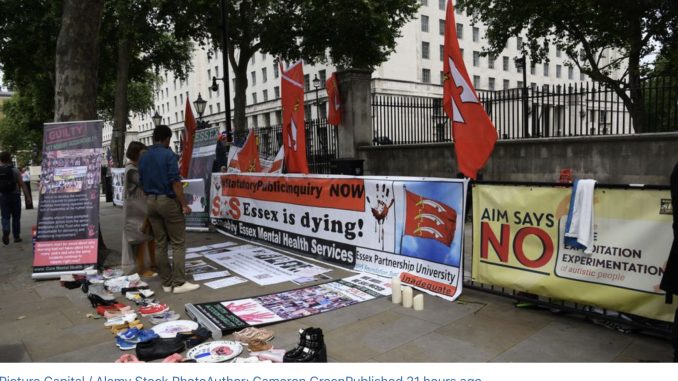 Melanie Leahy tells us changes and answers need to come fast
Picture Capital / Alamy Stock PhotoAuthor: Cameron GreenPublished 21 hours ago

One of the mum's at the centre of the Essex mental health inquiry – a day after it was given legal powers – has shared her thoughts with us.
The inquiry are investigating the deaths of around 2000 mental health patients in Essex over two decades. Melanie Leahy, a grieving mother, shared her journey and her pursuit of justice for her son, Matthew, who lost his life in the psychiatric system.
"I just need them to get on with it now because we've got children, we've got elderly, we've got all ages, to be fair, still in the psychiatric system, in places where they're not safe, where they're being abused and it has to stop."
Melanie says her son's death lead her on a campaign for truth, leading her to garner support from over 106,000 people who signed her petition for a public inquiry.
After years of perseverance, Melanie and over 80 families finally received the news they had been desperately awaiting. The announcement revealed that the inquiry would be granted statutory powers to compel witnesses, a crucial development in the pursuit of justice. Melanie emphasized the urgency of selecting the right chair and finalizing the terms of reference to ensure an effective and comprehensive investigation.
"It has the powers. We need to select the right chair and we need to get the terms of reference sorted. So we need that work to begin and fast."
Expressing her need for answers regarding her son's death, Melanie conveyed her initial disbelief when the inquiry was granted additional powers. However, she acknowledged that processing the news would take time, given the emotional toll of her decade-long campaign. Melanie extended her gratitude to the supporters across the nation who stood alongside her, highlighting their crucial role in demanding change. From raising banners to distributing leaflets, their unwavering support has been instrumental in pushing the cause forward.
"I need to thank all those across this nation that have supported me… I haven't done this the last few years alone and I just need to send out that thank you."
Melanie also expressed appreciation for Hodge Jones and Allen, the solicitors who took on the case pro bono, offering invaluable legal assistance to the families. Additionally, she appealed to whistleblowers to come forward with any evidence they may possess, emphasizing the necessity of their contributions. With over 2,000 families now involved in the fight for justice, Melanie urged those who have remained silent to step forward and join the cause.
Please follow and like us: