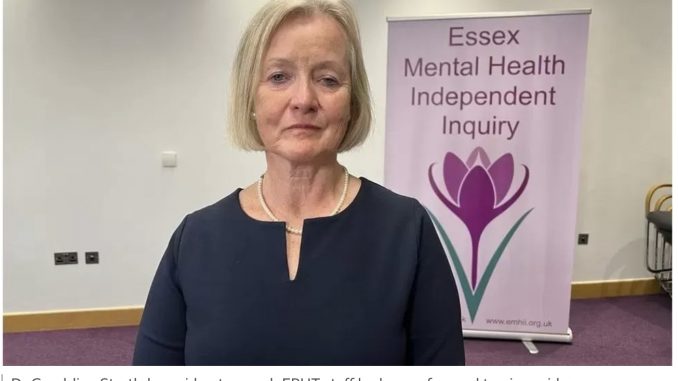 The chair of an inquiry into the deaths of mental health patients has renewed a push for a decision over whether to grant it full legal powers.
About 2,000 people in the care of Essex's mental health services are said to have died over the last two decades.
Dr Geraldine Strathdee has published a second letter to the health secretary and warned of fresh safety concerns.
The Department for Health and Social Care (DHSC) said it was "considering next steps".
The Essex Mental Health Independent Inquiry was set up in January 2021, but has been undermined by the failure of enough witnesses to come forward and give evidence, according to Dr Strathdee.
In her letter to the Secretary of State for Health, written in March, she said fewer than 30% of named staff – who currently or previously worked for Essex mental health services – had agreed to attend evidence sessions.
"In my assessment, I cannot properly investigate matters with this level of engagement," she told Steve Barclay.
No decision has yet been forthcoming on her request to place the inquiry on a full statutory footing.
However, Mr Barclay was reported to be 'minded' to grant the extra legal powers.
'Absolute priority'
In her letter, Dr Strathdee also warned of fresh safety issues at the current provider, Essex Partnership University Trust (EPUT).
"I am very concerned that there are serious, ongoing risks to patient safety," she wrote.
"Due to the nature of these issues, I am confident that these cannot be properly investigated by the Inquiry without statutory powers."
EPUT said patient safety was an "absolute priority", adding: "Where the inquiry has notified us of any concerns, we have fully investigated and taken immediate action where necessary."
An independent review into 1,500 deaths at the Essex Partnership University Trust (EPUT) over a 21-year period was launched in 2020, with the inquiry set up in January 2021.
Another 500 deaths were made known to Dr Strathdee in December.
The Trust's chief executive Paul Scott has disputed the figure of 2,000 deaths.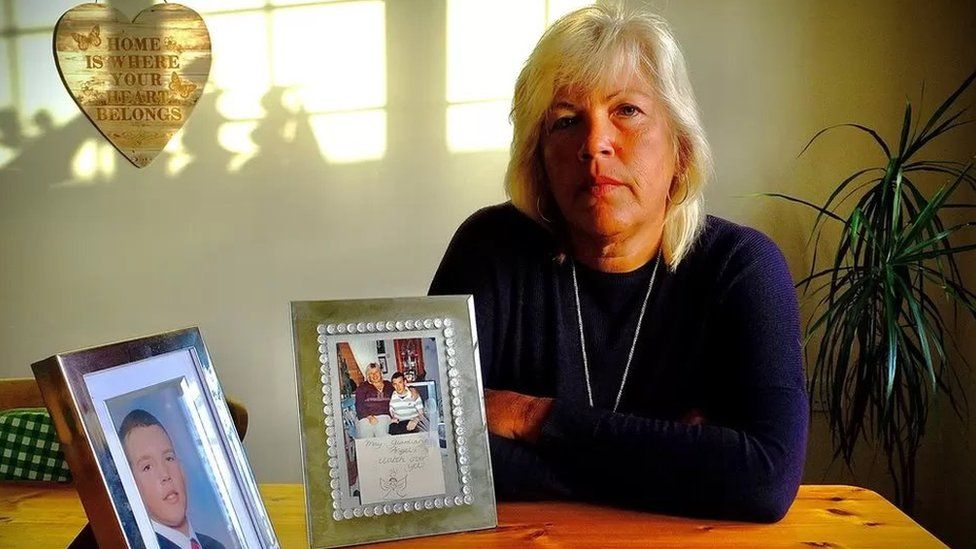 Campaigner Melanie Leahy, whose son Matthew died during his time as an inpatient at the Linden Centre in Chelmsford in 2012, said she was now "challenging" the government to tell her that giving the inquiry new powers was "not an urgent need".
"It has taken nearly 11 years of painful and relentless campaigning for answers after the tragically preventable loss of my son Matthew Leahy whilst in a place of so-called safety," she told the BBC.Ms Leahy added: "Professor Strathdee has made it undeniably clear that she agrees that the present limited inquiry be converted to statutory status so that she can finally compel witnesses to speak and put patients and families at its centre".
'Disappointing'
A DHSC spokesperson said: "Every death in a mental health facility is a tragedy.
"We're improving mental health services across the country and that's why we launched the inquiry to look at inpatient mental health deaths in Essex between 2000 and 2020.
"We're grateful to all those who have participated in the inquiry to help improve patient safety.
"It's disappointing, however, that some current and former staff have not engaged to the extent expected and the inquiry hasn't been able to access all the information it has requested.
"We are carefully considering the inquiry's next steps and will update in due course."
An EPUT spokesman said: "We continue to proactively encourage our staff to engage with this inquiry and are offering colleagues support and advice.
"There is a need to meet the commitment to families, carers and service users who rightly expect answers.
"Patient safety is our absolute priority and we remain committed to working with the inquiry now and in the future, whatever form it takes."

Please follow and like us: