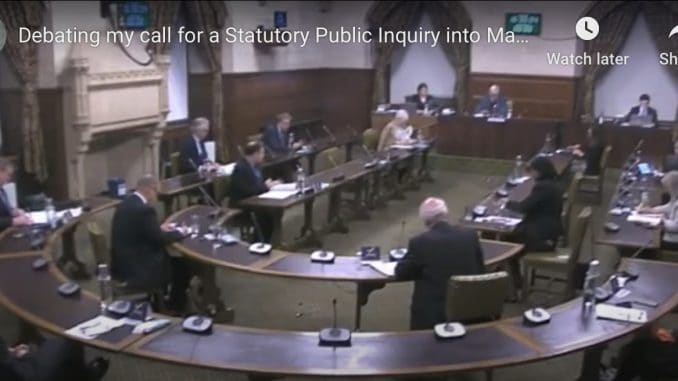 Deaths in Mental Health Care
16:30:00
Graham Stringer (in the Chair)
Before we start, I remind hon. Members of the new rules in Westminster Hall. They should be getting used to them now, but some have not been in a Westminster Hall debate. I ask Members to sanitise their microphones using the cleaning materials provided before they use them, and dispose of the materials as they leave the Chamber. Members are also expected to honour the one-way system, which means going round clockwise, coming in by the left entrance and leaving by the other entrance. Members can intervene only if they are on the call list. If you are on the call list, you are expected to be here at the start of debate but, unlike the position prior to covid, it is quite permissible to leave after having spoken.
Before I call the hon. Member for Hartlepool (Mike Hill), I need to advise hon. Members that I have been informed that there are active Health and Safety Executive criminal legal proceedings against Essex Partnership University NHS Foundation Trust relating to deaths in mental health care facilities between October 2004 and April 2015. I have further been informed that the trust has pleaded guilty in those proceedings to failures of care relating to the deaths of 11 patients. Active proceedings are sub judice until sentencing or discontinuance under the House's resolution. Therefore, Members should be mindful of matters still before the court—in particular, the judgment and sentencing in this case.
16:32:00
Mike Hill (Hartlepool) (Lab)
I beg to move,
That this House has considered e-petition 255823, relating to deaths in Mental Health care.
It is an honour to serve under your chairmanship, Mr Stringer. I, too, received that advice not long ago, and sought advice on behalf of the petitioner in regard to anything that I have to say. I will navigate through my speech, bearing in mind that legal statement. I apologise in advance if I stray into such territory, simply because to do justice to this petition I have for the most part chosen to reflect the words of the petitioner. That is only right and just. More than 100,000 people have signed the petition. It is a very personal case, and it is personal for other families whose relatives have died in such horrendous circumstances.
The petition attracted 105,580 UK signatories in support, despite the fact that it was curtailed by the Government closure of Westminster Hall last November due to covid. I will read the text of the petition to put it on the record and inform hon. Members fully. I have spoken to the petitioner, Melanie Leahy, on a number of occasions, and I pay tribute to her for starting the petition. She wrote:
"I request a full public inquiry into death of my son, Matthew Leahy. (20 yrs.)
Matthew was taken to 'a place of safety', and died 7 days later. 24 others died by the same means, dating back to the year 2000. An indicator that little was done to address the growing problems. Something went terribly wrong with the NHS Mental Health Services provided to my son.
There really is no way that public concern can be allayed, short of an Inquiry. All investigations to date, including police and inquest proceedings, have been based on a Trust Serious Incident Investigation. A four and half year Parliamentary Health Service Ombudsman Report has now concluded that this investigation was not adequate and lacks credibility.
There has been an inadequacy of investigation. A human rights violation. New evidence has been uncovered and I request a statutory inquiry, that compels witnesses to give evidence on oath.
Matthew is not alone. Many others have died"—
in the same institution—
"whilst 'In The Care Of The State'."
The petition ends with a link to a press report dated November 2018 detailing how a two-year police investigation sparked by Matthew's death six years earlier, into the corporate manslaughter of 24 further patients, was dropped, leaving families without "accountability or recourse", for their loved ones' deaths.
In opening the debate on behalf of the Petitions Committee I want to begin with some background. On 15 November 2012, Melanie, Matthew's mother, received the call that no parent wants to receive: "Matthew has been found hanging and it's not looking good," was the quote. It came to light that Matthew had already been dead for more than an hour when that call was made. Melanie described it to me as the first lie of many more that she would uncover after his death. I will share the background of Matthew's short life, how he ended up in the care of the Essex mental health system, what went wrong, the journey that his mother has been on since his death to get to any form of truth or accountability, and her continued fight for truth, justice, accountability and change for others. I have received a letter from the right hon. Member for Harlow (Robert Halfon) in support of the case. He has had a case of someone dying in similar circumstances in the same place.
The account is quite long, but that is understandable as Melanie's fight has taken eight years to date, and has encompassed many trials in getting to this point. I have a statement from Melanie that she would like to have been able to read herself. Obviously that is not allowed in this place, so I will read it for her:
"I write these words not just to represent my son, but to represent the multitude of lives that have been affected by the inadequate care offered by mental health services across our nation."
Mr Stringer, almost within the last 10 minutes I received a statement from families, who asked for it to be read out. I do not have time to do that, but I ask the Minister to accept it if I forward it to her .
The Minister for Patient Safety, Mental Health and Suicide Prevention (Ms Nadine Dorries) indicated assent.
The Minister for Patient Safety, Mental Health and Suicide Prevention (Ms Nadine Dorries)
indicated assent.
Mike Hill
The statement reads:
"I am mum to Matthew James Leahy, born December 1991. He was a beautiful soul. He understood compassion and he cared for others. He was generous, he was kind, he was smart. He was funny and in his younger years he wanted to be a comedian. He was quite shy in large groups, and was a loyal friend. He was never one to encourage a fight but he would stand up for himself and the ones he loved. And I'm proud to say my son was honest, not a liar, not like some I've come across on this journey.
He loved the outdoors, loved anything water sports related and was a fantastic skier. Having left Grammar school, where he excelled in mathematics and computer science, he set up his own computer business, travelling between clients on his motorbike and was doing really well. He had a natural talent for swimming. He actually saved two ladies from drowning and when 18 he became a qualified life guard.
Aged 19 Matthew was having trouble sleeping and complaining of pains in his stomach and having stomach cramps. He was also hallucinating. When Matthew became poorly we turned to so called professionals for help, to help us to understand what was happening with our son. He was sectioned for care and treatment. This sectioning and the failings in care at that time, although noted briefly in the inquest verdicts, have never been investigated.
After Matthew's death medical records showed that the first psychiatrist involved in his care picked up a B12 and folate deficiency and possible coeliac disease, combined with a thyroid issue. However, these discoveries were never addressed, as a new psychiatrist took over Matthew's care and put him straight on to anti-psychotic medication. Any further physical checks were minimal.
On 7 November 2012, Matthew was placed under section 3 of the Mental Health Act and admitted to the Linden Centre in Chelmsford, Essex. By 15 November, some seven days in the 'care of the state', my son was dead. The last days of his life in a place he called 'Hell'. And I now believe it truly was a hell on earth.
Alone, malnourished, over-medicated, scared, bleeding, bruised, reportedly raped, injected multiple times, ignored, and frightened. No records of any staff in those last seven days of his life offering him any comfort. I had been advised not to visit and to give him time to settle on the ward. I will live with the guilt for the rest of my life that I listened to so-called professionals and I was not there when my son needed me the most.
An inquest into my son's death was held in January 2015. An open narrative verdict was reached, which concluded that my son, 'Matthew James Leahy was subject to a series of multiple failings and missed opportunities over a prolonged period of time by those entrusted with his care. The jury found that relevant policies and procedures were not adhered to, impacting on Matthew's overall care and wellbeing leading up to his death.'
How the inquest concluded I will never know. Staff were not interviewed by police after Matthew's death. An internal investigation was carried out, which the Parliamentary and Health Service ombudsman has deemed flawed and not fit for purpose. This flawed investigation formed the basis of every investigation actioned after Matthew's death.
The ligature was destroyed, the defibrillator was destroyed. Door logs were not downloaded. CCTV was hidden for over seven-plus years, and parts of it either not retained or deleted. So, so many more issues exist.
I have not been able to determine or control any of this—investigations, reviews, reports etc—all processes that have happened around me, with me being entitled to some information and some explanation, but little voice, little influence and little power.
I did think that the system would be open and honest, would explain what went wrong, hold to account those responsible for any failings and afford justice for failing my most precious son. However, I have discovered a deeply troubling mismatch between what I expected and what I found. In any other walk of life, if there had been failings, heads would roll. This has never happened, despite criminal offences being proved.
If the tragedy of losing Matthew hasn't been bad enough, to not know the full circumstance that led to his death 'whilst in the care of the state' is unforgiveable. I still do not have full disclosure and have never seen internal statements. 'Duty of Candour' went out of the window the moment Matthew died.
It came to light after Matthew died that paperwork had been falsified, backdated and slipped into his files. It took me four-plus years to finally persuade Essex Police to register this falsification of mental health documents as a crime. I thought, 'At last, they are listening to me.' Then the bomb dropped. 'We won't be prosecuting, as it's not in the public interest.'
The Trust has failed to take steps to protect patients in their care. The question remains why no individual has been held to account and why some staff involved in failing my son and other patients have actually been promoted to high-ranking positions within the NHS.
The Coroner called for a Public Inquiry after the inquest in 2015. There have also been multiple calls from various MPs in the last five years. The Parliamentary and Health Service Ombudsman went on national television after 'The Missed Opportunities Report' was published to say that if he had the power to, he would call a Public Inquiry.
In October last year, the Public Administration and Constitutional Affairs Committee held an evidence session on the Ombudsman's Report into the failed care of Matthew and of Ben Morris. (Ben died in the Linden Centre in 2008 aged 20 years).
During the session, the Minister for Patient Safety, Mental Health and Suicide Prevention explained, 'that Public Inquiries do not happen for individual cases. In this case, a Public Inquiry is not an appropriate response because we are talking about two cases'.
I have now been joined in this fight calling for a Statutory Public Inquiry into Essex Mental Health Services by multiple bereaved and failed families. (55 families and growing). How multiple deaths can have gone on unchallenged for so many years and so many people in official positions, not involved with this scandal, have entrapped themselves by collaboration the moment they came across it has baffled me. How the system did not prevent these deaths or at the very least detect the failings/changes needed earlier I'm sure is a question in many failed families' minds, not just mine.
Where is the Government's anger? Its thirst for Truth and Justice? Its commitment to getting answers and ensuring it never happens again?
Many families are losing loved ones while under the care of state mental health system. Whether that be due to mental illness, additional vulnerabilities such as autistic and/or learning disabled individuals, those misdiagnosed, or dementia…it does not discriminate."
The Government are now officially, in Melanie's words,
"on notice of…Gross and systemic Neglect (resulting in multiple avoidable deaths)…Physical, sexual, and emotional abuse and exploitation of the vulnerable—most of them young, historical and sadly, ongoing.
The right people in Government need to understand the full extent of the Essex Trust's Failures and I have every faith that once the Government commits to a Full Statutory Public Inquiry into Essex Mental Health, the fundamental truth of what and still is going wrong will be revealed.
Through that knowledge I hope justice and accountability are afforded and that necessary change is made for others who, like I and many others did, look to services when they need safe, compassionate care for their loved ones."
I have to echo that point in respect of some horrendous cases in the Tees Valley, my own patch.
I will conclude with the following words:
"I offered the Government Matthew's sad death to be a catalyst of learning and change months ago. Please call a Public Inquiry into Essex Mental Health Services without further delay. Make the changes in Essex and send the learning across the country. I hope then that I can start to grieve the loss of my son and Matthew will be able to then rest in peace."
I know I have kept my speech narrow, but I felt it appropriate to reflect the true voice of the petitioners. Thank you, Mr Stringer, for allowing me to do that.
Graham Stringer (in the Chair)
There are a number of people on the list who wish to speak. I will start with a time limit of four minutes, and call James Cartlidge.
16:48:00
James Cartlidge (South Suffolk) (Con)
Thank you, Mr Stringer; it is a great pleasure to serve under your chairmanship, and to follow the hon. Member for Hartlepool (Mike Hill) who introduced the debate on behalf of the Petitions Committee. He spoke of the case of Matthew Leahy. It is a terrible tragedy, and I pay a huge tribute to his mother, who has campaigned for years through the pain, which is without limit.
We all sympathise, I am sure, but as the hon. Gentleman said the case of Leahy is not the only one at the Linden Centre, Chelmsford. There have been several others, all tragic, including my constituent Richard Wade. I held an Adjournment debate on the case of Richard Wade in October.
At the start of that debate, because the HSE case was live, a much stricter sub judice ruling was given, which meant there were things I could not say in the Adjournment debate that I feel able to say today.
I have a very short period of time and I do not have time to give the full details of Richard Wade's case. The key point is that, on the day he was found hanging in the Linden Centre in Chelmsford, there is strong evidence that his parents have seen—not just documentary evidence, but other evidence that has come to them, including from people who have worked at the Linden Centre—that when his body was first discovered hanging, still alive, the clinicians who found it either panicked, or for some other inexplicable reason left it hanging, locked the door and allowed some minutes to pass before he was discovered a second time, this time with his parents nearby. At that point he was given resuscitation and urgent medical treatment. We do not know the impact of those crucial minutes on his eventual fate several days later, when he passed away. Essentially, his is a life that I believe could have been saved and a death that could have been avoided.
I will not repeat all the points I made about Richard Wade's case in my Adjournment debate, other than to say that although he died in May 2015—in fact, I met him going to vote in Great Cornard in May 2015, a few days before I had the great privilege of being elected for the first time, and he was dead several days later—in February 2015 another man, who I believe was called Beecroft, also died by ligature in the Linden Centre in Chelmsford, in the very same bathroom where Richard Wade hanged himself that May. The extraordinary thing is that, when the trust reported on Richard Wade's death in December that year, it never mentioned that there had been a hanging in the same bathroom three months earlier—as if it were a common occurrence or something. It is quite extraordinary.
When the Care Quality Commission came to investigate, because of course, by April 2015, it had taken over from HSE, I am afraid it did not handle the case well. The CQC did not investigate it initially, because, in the words of the report it issued to the Wades in July, the inspectors effectively did not realise that they had taken over statutory responsibility from HSE. It is a catalogue of failures; the Wade case alone would merit an independent inquiry, but there are also Beecroft, Leahy, Morris and potentially other cases.
At the end of my Adjournment debate my hon. Friend the Minister, who was being covered for at the time because she was isolating, announced an independent review into the deaths at the Linden Centre. I was very grateful for that, because I know she has taken huge interest in the matter and very sincerely so. I hope that that can be a full, robust, independent inquiry, like the one we had last week into the Dixon case, which can uncover the truth and can go into places that other mechanisms cannot.
Kevin Hollinrake (Thirsk and Malton) (Con)
These are terribly tragic cases; sometimes they cannot be avoided, of course, but at times they are due to the performance of the trust and perhaps of the management of that trust. Where that is the case, does my hon. Friend agree that the leadership of those organisations must be held to account for their performance?
James Cartlidge
My hon. Friend makes an excellent point, echoing the concluding remark from the hon. Member for Hartlepool, and he is absolutely right that there must be accountability. However, when we go into an independent inquiry, there is a danger of saying, "Well, it must be a statutory public inquiry," and getting into the semantics of the mechanism we use.
I think what my constituents the Wades want is the truth. They simply want to know the truth about what happened to their son. We now have a tangible offer from the Department of Health of a mechanism that all the families can use to get involved, to shape the terms of reference and to help us to deliver something in the public interest—as, again, the petitioners seek—to the benefit of the whole country in terms of wider mental health. Above all, that will bring some sense of accountability to all the families who have suffered so tragically at the Linden Centre in Chelmsford, including the Wades and the Leahys. I believe that the Minister will now act and I give her all my support in doing so.
16:54:00
Barbara Keeley (Worsley and Eccles South) (Lab)
It is a pleasure to speak in this debate with you in the Chair, Mr Stringer. I thank the Petitions Committee for granting this important debate and my hon. Friend the Member for Hartlepool (Mike Hill) for opening it, and I congratulate Melanie Leahy on the strength of her campaigning to get us to this debate.
As we have heard, Matthew's case is a tragic one, with a catalogue of failures that culminated in his death. I know that nobody here can fail to be moved by what Matthew and his family went through—the hon. Member for South Suffolk (James Cartlidge), who has just spoken, certainly was. Melanie has been fighting for answers and justice for her son for eight years now; I pay tribute to the work she has done, but I also say it should not have been necessary.
Matthew was in the Linden Centre for only a few days. In that time, he reported a sexual assault to the police, but they took no follow-up action on his report. Staff claimed that he lacked mental capacity, despite no assessment being carried out. He was heavily medicated with anti-psychotics and tranquillisers, despite him telling staff that he would attempt to kill himself if he was given injections. As we have heard, only a week after being admitted, he was found hanging in his room and he died.
That catalogue of failures would be shocking in itself, but it ended with a young man dying. In cases such as Matthew's, we have a duty to learn the lessons and ensure that others in mental health care do not end up dying preventable deaths.
Jim Shannon (Strangford) (DUP)
I sympathise greatly with the hon. Lady and the story that she is telling and that other hon. Members have told. Does she agree that when it comes to helping people who have mental and psychiatric issues, who need help more than anyone, it is important that facilities are modern? They need in-patient care and they need the staff to be trained and able to respond. If those things were improved, does she think that would be a step in the right direction to try to help people and prevent such tragedies from happening?
Barbara Keeley
There is much that needs to change, but the hon. Member is right that that is one aspect of it. The mental health estate is known for being run down and out of date.
The learning of lessons has not happened in the Linden Centre or in mental health services in Essex. The charity INQUEST has worked on more than 28 cases involving deaths in mental health settings in Essex since 2013, yet despite the many investigations, reports and inquests that have highlighted failures, preventable deaths have continued. At the Linden Centre, INQUEST is aware of six in-patients found hanging between 2004 and 2019. Despite repeated inspections and visits by the Care Quality Commission, people have continued to die in those services.
The ombudsman's report found clear signs of a cover-up at the Linden Centre. As Melanie told me:
"Matthew had no key worker. Records of observation levels and when he had been observed were changed. His care plan was falsified after he died. His claims of rape were ignored. Lots of documents were missing and a whole catalogue of policy failings were uncovered."
That speaks of a culture that is less interested in learning from failings than in avoiding the blame for Matthew's death.
The only way to restore trust in our mental health services is to publicly demonstrate that all those issues, including the one that the hon. Member for Strangford (Jim Shannon) mentioned, are considered and addressed. Melanie Leahy has suggested that the only way to do that is through a full public inquiry. At the inquest into Matthew's death, the coroner asked the NHS trust to consider commissioning an independent inquiry.
The ombudsman, in his recommendation, said that the review due to be held by NHS Improvement,
"should consider whether the broader evidence it sees suggests that a public inquiry is necessary."
In an interview on ITV, the ombudsman went further on the failings, including about Matthew's care plan being altered after he died and his claim of rape not being investigated. He described them as
"a catalogue of failings which are entirely unacceptable."
He also said that he would fully support a public inquiry if one was recommended, and that he would like to have investigated further if he had had the powers.
Both public officials who have investigated Matthew's death, the coroner and the ombudsman, have said that they would support a public inquiry. I ask the Minister, on behalf of Melanie Leahy, to set up a public inquiry. Only a public inquiry will have the transparency and broad participation needed to rebuild trust in the services. The Minister will know that that is the only way that witnesses can be compelled to give evidence without seeking to apportion blame, and evidence must be given on oath.
As Melanie has said,
"Since Matthew's death I have been on a mission to get to the truth of what happened to Matthew and to get justice for him. On my journey I have not only found that many other families are in the same position as me, but also individuals who have the survived the quotes 'care' that they received."
In this most tragic case, inadequate and neglectful care led to the death of a young man like Matthew. His mother has had to take on a fight over many years to get to the truth. I thank all the families and parents such as Melanie Leahy who have put so much of themselves into their campaign. I return to what she said to me:
"To say the current situation is not good enough is a massive understatement. We know what has to change and we have known for decades. What will make the Government take real action? How many times do we need to hear the same information and recommendations? How many more Matthews have to die?"
16:59:00
Mr Philip Hollobone (Kettering) (Con)
It is a pleasure to serve under your chairmanship, Mr Stringer. I congratulate the hon. Member for Hartlepool on the wonderful way in which he opened the debate and the two preceding speakers on their powerful contributions. I rise to speak on behalf of my constituent, Mrs Marian Coles, who was alerted to the debate and contacted me. I want my speech simply to be what she has written to me, to place her concerns on the record. Mrs Coles said:
"I am writing regarding the Westminster Hall debate concerning deaths in mental health care which calls for independent investigations into deaths in mental health settings. As a family that has been personally affected by this after our son took his own life whilst a mental health inpatient in Kettering in May 2017, we would ask if you would represent us at this debate. This was the second suicide at this facility 7 months apart. Staff failings were admitted at the inquest and 3 nurses were disciplined but they refused to give us the details. It has taken us 3 years for the NHS to settle this case.
We were involved with the serious incident report that took place but strongly support an independent inquiry being held after such deaths as is allowed in other organisations. Why should an organisation investigate itself over a death that may have been caused or contributed to by failures of its own staff or systems? The lack of an independent inquiry hampers the ability to root out issues of system neglect or misconduct and also jeopardises the welfare of future patients by failing to address such concerns. There is overwhelming evidence that the current system for investigating deaths in mental health settings is not fit for purpose.
"We very much hope that you will be able to take part in the debate and offer your support"—
I do—
"for an independent inquiry for families that may be affected by these tragedies. I am deeply traumatised by the death of my son, as is all of my family and we have to live with this every day of our lives".
It is a privilege for me, as the local MP, to place Mrs Marian Coles's concerns on the record.
17:02:00
Janet Daby (Lewisham East) (Lab)
It is a pleasure to serve under your chairmanship, Mr Stringer. The circumstances of the debate are truly heartbreaking. I begin by extending my condolences to the family of the late Matthew Leahy and all families who have lost loved ones with mental illness at the hands of those who were supposed to protect them and care for them.
For many decades, mental health has not received enough attention or funding in comparison with physical illness. I draw attention to the mental health unit in Lewisham, which has already been viewed as not being fit for purpose—it was not built for people who have mental health problems—yet funding has never materialised for the changes needed to make it suitable for people with mental health problems. With the pressures of the pandemic, medical professionals are reporting more and more that people are suffering with mental illness due to economic hardship or loneliness, so it is clear there will be greater demand for mental health services over the next few years. It is imperative that we have well-functioning and well-funded mental health services to prevent needless deaths of the most vulnerable who are in need of those services. Medical professionals, the police and everybody around them also need support to be able to care for people with mental health illnesses. They need training, supervision and, most of all, not to be overworked. They also need to be able to debrief when they find things difficult.
I would like to raise the case of the late Kevin Clarke, from my constituency of Lewisham East, who sadly died following a mental health relapse. My condolences go out to his family, who are still bereft from the loss of Kevin, who, despite not posing an immediate threat to anyone, was handcuffed and placed in a leg restraint while telling the police that he could not breathe. In October, an inquest concluded that the officer's restraint and supervision towards Kevin were excessive and sadly contributed to his death. However, the police were not the only professionals involved in his care. Other professionals were also in contact with him prior to this tragic incident.
A strategy of care needs to be in place for all mental health patients, one in which patients are listened to and family members are involved, so that loved ones can talk about preventative measures and their concerns, as well as contribute to the care plans that are needed. Mental health doctors, mental health nurses, social workers and care staff all need to work collaboratively with all professionals involved in keeping the most vulnerable people safe and secure, and to prevent these fatal, awful incidents of suicide or types of restraints leading to death. Change needs to happen.
Graham Stringer (in the Chair)
Hon. Members have either not turned up or taken less time than expected, so, unusually, I will increase the time limit for the last speakers to five minutes.
17:06:00
Catherine West (Hornsey and Wood Green) (Lab)
It is a pleasure to serve under your chairmanship, Mr Stringer, and to have the extra few minutes, which allows me to speak about a constituency case. I want to put on record how moving the speech by my hon. Friend the Member for Hartlepool (Mike Hill) was, and how many wonderful speeches there have been today, to give this desperate situation the attention it deserves.
I declare my interest as a patron of Mind in Haringey. I want to put on record my thanks to Deborah Coles, the chief executive of INQUEST, who wrote this important briefing paper and represents, sadly, hundreds of families who face a similar case to Melanie Leahy. They are desperate. They want to know the reasons and what happened prior to losing their child. I hope that at the end we will have a positive statement from the Minister about a proper inquiry and recommendations to be followed as a result of it.
The Minister may well remember Seni's law, which was introduced by my hon. Friend the Member for Croydon North (Steve Reed), as a result of his campaign with Seni's family. Seni died as a result of police restraint due to his having a very serious mental health problem but not getting the correct care under the mental health services. This Friday I have a constituency meeting with a constituent who has tragically lost her son in similar circumstances. This is not an isolated incident and it is wonderful to have this debate.
I want to focus on the findings from INQUEST and some of the other experts who have looked carefully at the similarities in these cases. We know that between 2013 and 2016 there were 71 deaths similar to the one that we are talking about today. Despite several recommendations made by the coroner following each one of these to prevent further deaths in similar circumstances, as the hon. Member for South Suffolk (James Cartlidge) said, the lessons simply are not being learned. Are we doing a read across from similar conditions in the prison service, where, I think, the deaths have come down and the lessons have been learned to some degree? I wonder if there can be shared learning across different services.
We know that in November 2020, INQUEST, the voluntary sector organisation that helps families, looked into 20 recent cases of deaths in adult in-patient mental health settings and found the same issues repeated: lack of staff training, poor record keeping, a failure to involve the family in the care of the patient, a lack of local specialist units and staff shortages.
We know that as a result of covid-19, as other hon. Members mentioned, we have an opportunity to do things differently. We know that we can do much better in terms of accessible data on the number of deaths and how people have died. We know that we can do much better in training our mental health professionals. At Care Quality Commission level, we could do much better in terms of inspections, so that this appalling area is cleaned up once and for all.
We also know that there is failure of communication at crucial times, so that for months and months the family are left not knowing what is the next step and what will happen as a result. That is why it is crucial, as we have all said today, that we have the correct oversight at the national level to monitor the learning and implementation, but also that we have a statutory public inquiry. It can be into Essex mental health services, but what matters is that whatever it is, it is generalised across every single mental health setting.
In the context of covid, where we know there will be at least 20% more people suffering from mental health conditions—including more young people, who are disproportionately affected by covid—there is a real urgency to this work. I hope that we as Members can put more pressure on the Department of Health and Social Care to tackle the problem once and for all.
17:10:00
Kim Johnson (Liverpool, Riverside) (Lab)
It is a privilege to serve under your chairmanship, Mr Stringer.
Matthew Leahy had his whole life ahead of him. He was just 20 years old when he was detained in November 2012 under the Mental Health Act and transported to the Linden Centre, a secure mental health unit in Chelmsford. Three days after his admission to what his mother, Melanie, believed was a place of safety, Matthew reported that he had been drugged and raped. Four days later, he was found hanged in his room.
Over the ensuing years, multiple inquests and inquiries into the conditions surrounding Matthew's death have uncovered evidence of serious care failings, including the fact that Matthew's paperwork was incomplete or missing and that no key worker had been assigned to him. It was revealed that Matthew had no care plan and that staff had falsified one after his death and backdated it.
I welcome the petition and this debate, and I want to take the opportunity to pay tribute to Matthew's parents and all those who have campaigned so hard to get the truth, justice and accountability. I also welcome last month's announcement by the Minister for Health, the hon. Member for Charnwood (Edward Argar), that the Government will launch
"an independent review into the serious questions raised by a series of tragic deaths of patients at the Linden Centre between 2008 and 2015."—[Official Report, 16 October 2020; Vol. 682, c. 733.]
It is absolutely right that we commit to uncover the truth about the significant failings in the care and treatment of vulnerable patients, and that the mantra of "learning lessons" is not merely a soundbite accompanied by endless toothless reviews but results in substantive and tangible change.
No mother should ever have to go through the dreadful loss and devastation faced by Melanie Leahy and so many other people, who made difficult decisions in impossible circumstances to hand over their children to the care of others, where they believed their children would be safe. No family should have to campaign for years to forcibly expose the negligence and incompetence of a system that contributed to the death of their loved one.
We know that black people are overrepresented in mental health services and are disproportionately subject to the use of Taser on wards, and it needs to stop. I congratulate Mary Seacole House, a mental health charity in my constituency, on the work that it has done over many years to support patients with mental health problems, and on shining a light on injustices.
My question to the Minister is: how can we challenge and improve the process and culture of attaining inquiries, so that families bereaved by state neglect and wrongdoing are placed at the very heart of conversations about accountability and change, and are not blocked, bullied, stigmatised or cast aside with accusations of being a nuisance or a problem in their quest for truth and justice?
17:14:00
Peter Gibson (Darlington) (Con)
It is a pleasure to serve under your chairmanship, Mr Stinger, and I congratulate my Tees valley colleague, the hon. Member for Hartlepool (Mike Hill), on opening the debate. I join all hon. Members in everything they have said so far, and I echo their expression of sympathies and prayers for the family of Matthew Leahy. I pay tribute to Mrs Leahy for her efforts.
Sadly, we are all too aware that Matthew's case is not alone. The death of a child is something that no parent should have to experience. From my family circumstances, I know that the impact for the parent lasts a lifetime. Through several close family connections, I know that the anguish of a parent whose child is lost to suicide is even more painful.
In 2019, 195 people died in mental health care across the UK. One of those deaths occurred in my constituency at West Park Hospital in May 2019. That sad death, and indeed all those tragic deaths, serve to tell us that we need to do more. As politicians, we must always be looking to do more to support the mental health care sector, improve outcomes and avoid deaths. We must do all we can to support the staff in our mental health care sector. Every one of those tragic deaths will have had a profound impact on the staff in those facilities.
In 2018-19, the Government increased spending on mental health to a record £12.5 billion, and the NHS long-term plan for mental health increases spending each year by a further £2.3 billion, but we all know that it is not just about the cash; it is about the leadership, the management, the culture and the care. I welcome the recent CQC report, "Out of sight", which acknowledges the shortcomings of some of our mental health facilities, the challenges they face with patients—particularly those who suffer with autism—and the sense that those places, which are designed for care, are not therapeutic. I hope that its recommendations are followed through. That will address some of the shortcomings, and hopefully we will see fewer deaths.
I listened to the hon. Member for Hartlepool, and I firmly believe that it is vital to embed a culture of learning, safety and improvement across the mental health care sector. I look forward to hearing about the steps that the Minister and her Department are taking to tackle this issue and embed a better culture throughout the sector so that it can do all it can to prevent all deaths in mental health care. The Minister will have heard the calls for independent investigations and inquiries, and I add my voice to them.
17:17:00
Jim Shannon (Strangford) (DUP)
I thank all those who set the scene and the Petitions Committee for what it did.
Our hearts go out to our constituents. Hon. Members have spoken on behalf of them, and I thank them for that. I admire the determination that each and every one of them has shown. A breakdown in care took place, and we must not see another family in that situation.
I want to take a slightly different approach to the issue of mental health and talk about how we can help within the system. Ultimately, that is what the Minister will set out in her response. I have seen too many of my constituents broken, in need of support and let down by the system. I remember one young man, Michael, who came to my office when he was on the edge. He was a young fellow and was homeless and distraught, and the girls in my office were able to reach out and tell him in a helpful, compassionate way, "Your life is important and we will help you." He broke down in tears.
We were able to help that young fellow get accommodation through the Northern Ireland Housing Executive. We also got him some help from the local food bank, which is always there to help, and were able to sort out his benefits. What happened was that that young fellow had just disappeared off the grid. He clearly had mental health issues and was not able to cope. He got the psychological help that he needed and he got his benefits renewed, so the pressure on him became less of a difficulty because of those who helped—the Northern Ireland Housing Executive, the local benefits office, the food bank, the local churches. All those people came together.
It is my sincere belief—I believe this in my heart—that if Michael had not come to my office, he may not have survived. We all believe that, including the girls in the office and those we spoke to. Every Government body was exceptionally helpful, and we thank them for that.
That is the foundation for mental health. Ours is not to question how or why people have got to the stage that they find themselves it; we must only see how we can help them where they are. The overhaul of the facilities that I spoke about when I intervened on the hon. Member for Worsley and Eccles South (Barbara Keeley) is about updating them, so that the in-patient help gives people hope to reach out. We are desperate to see an upgrade of facilities that are sometimes not fit for purpose.
Sometimes there is no privacy. Sometimes people need a wee bit of privacy where they are, but they also need to be able to reach out and have someone help them at the times when they need that. Some of the wards that I am aware of are mixed-gender wards, where a lack of privacy is obviously even more of a problem. When it comes to people being allowed to visit, they get one hour each, once a week. I do not feel that that is enough; more time should be allocated for visitors.
I am always very aware of the great work that occupational therapists do. They have a brilliant team, with fantastic ideas. They have allocated some rooms for activities. I think that it is important to have some sort of organised activities, so that those who are under pressure psychologically, mentally and socially have somewhere where they can look outwards. The OTs in the area that I represent have come up with a therapy garden. These things can be done in-house and in a way that can really help. There are gardening classes. Again, it is a question of designating an area for people and ensuring that they have it.
To conclude, it is little wonder that patients and those who are in homes remain uninspired and unhopeful if that is how they view a place designed to provide the help and support that they are crying out for. It is clear that we must make massive changes, and if the first step to doing that is an inquiry, that is where we must begin. My heart goes out to all the families who grieve and feel let down. I believe that we can do better, but not only that—we should do better and must do better.
17:21:00
Andy Carter (Warrington South) (Con)
It is a pleasure to contribute to this important debate under your chairmanship, Mr Stringer. May I start by paying tribute to the hon. Member for Hartlepool (Mike Hill)? I thought that he opened the debate incredibly well. I also pay tribute to Matthew Leahy's mother for her campaigning to raise this issue here in Parliament. I am incredibly grateful to the 185 people in Warrington South who signed this petition. Many of them have also been in touch with my office over the last few days to raise their concerns about deaths in mental health care.
There is an unsatisfactory gap in the ability of regulators to enforce sanctions in serious cases and, in particular, those that involve death or serious harm to individuals where catastrophic deficiencies in standards of care were involved. Aware of this debate, I heard over the weekend from Richard Evans, who lives in Appleton in my constituency and whose daughter Hannah tragically took her own life five years ago.
At the time of her death, Hannah was a detained patient on Sheridan ward at Hollins Park Hospital in Warrington. Hannah, a 22-year-old young lady, had spent a short amount of time in a number of different settings as a detained patient and had also been cared for in the community by her family. Despite there being awareness of the fact that Hannah was a complex patient with an extensive history of tying life-threatening ligatures and an intense fear of change, she was given just two and a half hours' notice of her transfer that day to a different hospital by those who were caring for her. When the decision was discussed with her parents, they did not object. Critically, though, they did not know that Hannah had been involved in nine ligature attempts while in an intensive care unit. They are in no doubt that, had they been aware of the history, they would have attempted to block that movement in order to protect and care for their daughter. A fundamental lack of communication between ward staff, management and the family—the next of kin—led to a decision that ultimately resulted in Hannah's tragic loss of life.
The inquest on Hannah's case highlights a series of failings on that ward, but also a national problem regarding the lack of provision in place to properly support vulnerable young adults diagnosed with personality disorders and, more widely, the significant number of people in this country who suffer from mental health conditions.
I welcome plans to establish a new Health Service Safety Investigations Body, a new executive non-departmental public body, but it must have the powers to conduct investigations into incidents that occur during the provision of services and have strong implications for the safety of patients. Critically, that body must also improve the quality and effectiveness of local investigations by developing standards and providing advice, guidance and training to organisations.
I am keen to see stronger steps taken with prosecutions, holding those who lead care settings to account. The Care Quality Commission currently has relatively limited powers to prosecute, in part because of reservations about the value of criminal enforcements in healthcare. Legalities aside, speaking to Richard Evans, Hannah's father, the key issue with many of these sad cases seems to be a basic lack of communication: firstly between local NHS trusts and services, and then a dialogue with families when deaths sadly occur. That is something that can, and must, be addressed.
It is important that we take a zero-suicide policy to prevent unnecessary harm on individuals and their families in the future, and lessons need to be learned from the past. It is time to review the legislation to improve care, in what should be a place of safety for those who are at their most vulnerable.
17:26:00
Kevin Hollinrake (Thirsk and Malton) (Con)
It is a pleasure to speak under your chairmanship, Mr Stringer. I pay tribute to all the speakers today; they have spoken very movingly, particularly the hon. Member for Hartlepool (Mike Hill) and even more particularly Ms Leahy, who sounds like an incredible person. All that she is dedicating her life to now is trying to make sure that lessons are learned and changes are made, and that individuals responsible for mismanagement or maladministration are held to account.
The case I allude to is one with which the Minister is familiar. One of my constituents, Andrew Bellerby, was under the care of the Sheffield Health and Social Care NHS Foundation Trust, so these issues do not just pertain to places like the Linden Centre, which sounds horrendous. He presented himself there one evening, having been referred there by his GP. He had a history of suicide attempts. He was seen by untrained nurses who used a triage assessment tool that was designed by the Sheffield trust. These nurses were not trained to use it. Through that tool, they rated him as presenting no risk of suicide. He was then released back into the community, and sadly that evening took his own life.
Mr and Mrs Bellerby, his parents, have championed the cause of trying to find truth and justice, and have been prevented at every turn by Sheffield Health and Social Care NHS Foundation Trust. The communications have been terrible. It has been denial after denial, lie after lie. Eventually, an inquest proved that the Bellerbys were right and that Andrew Bellerby's suicide was preventable.
All that Mr and Mrs Bellerby wanted was an apology and an admission of the trust's failure and mismanagement. Instead, there was denial and obfuscation. It cost in the order of £100,000 in legal costs, much of which fell to the taxpayer, although the actual compensation bill at the end was only £9,000. Incredibly, even after all that time and it having been demonstrated that Mr and Mrs Bellerby were right that their son had been poorly treated by the trust, there was no compassion, remorse or proper apology. It is simply unthinkable.
That was back in 2015. The CQC gave the trust a damning rating in 2016, and did another assessment in 2019. The most recent assessment showed that there were 47 breaches of the trust's legal requirements. It was rated inadequate, and it is now in special measures. One of the things that runs through the report is constant reference to a lack of training. What had been learned in that four year period? Instead of the trust holding up its hands and saying, "Yes, we got this wrong. Yes, we are going to put it right," which is what the Bellerbys wanted in the first place—I am sure that is what Ms Leahy wants too—the trust was in total denial.
Mr and Mrs Bellerby want to make sure that the assessment tools are prohibited and not used by the health service. They have stopped being used in the Sheffield trust, I am pleased to say, but there are 32 other trusts that may still be using them. The Minister has been great with this family and has met them personally, with me, and he is championing the cause of trying to improve best practice in this area. Questions remain about whether those lessons have been learned in other trusts around the country. Key to the matter, as hon. Members have alluded to in speeches today, is whether the leadership of the trust in question, and other trusts, has been held to account for the maladministration. Kevan Taylor was the CEO at the time, and the accountable officer. He has now left and a new chief executive has taken over. I would really like to know whether he left with a payment, and without any blemish on his track record, or whether he has been held to account or sacked for his underperformance. Demonstrably, for years there has been underperformance by the leadership of the trust. Unless we start to make sure that the individuals who run trusts are held to account if they get things wrong—many do a fine job, of course—such tragic cases will continue to happen.
17:31:00
Dr Rosena Allin-Khan (Tooting) (Lab)
It is a real pleasure to serve under your chairmanship, Mr Stringer, and an honour to respond on behalf of the Opposition in this profoundly moving and powerful debate. I thank my hon. Friend the Member for Hartlepool (Mike Hill) for securing the debate, but it goes without saying that every contribution today has been extremely powerful. Everyone who has spoken has stood up for their constituents and represented the issues very well. The points have been made clearly and concisely, and hon. Members have done Melanie Leahy and the other families very proud.
We are here today because of a mother's love for her son and her desire to receive some answers about his tragic and untimely death. It is fitting, then, that the debate should take place ahead of National Grief Awareness Week. Matthew Leahy was just 20 years old when he was admitted to the Linden Centre in November 2012 after being detained under the Mental Health Act 1983. While in the care of North Essex Partnership University Trust at the Linden Centre, Matthew phoned his parents on numerous occasions to express his unhappiness at being detained there. I know that I am speaking again of things that have already been mentioned, but it is important to give the details as many times as possible, to get what happened across as powerfully as is necessary to see the change we want.
Two days after being admitted, Matthew phoned his father to tell him that he had been drugged and raped on the ward. Following a 999 call made by Matthew, the Linden Centre staff gave assurances to the family that he was indeed safe in their care. Just days later, Matthew was found unresponsive and hanged, in his room. He was transferred to Broomfield Hospital, where he was pronounced dead. Matthew was in the Linden Centre for just seven days.
As a mother myself, I cannot comprehend what Melanie has had to contend with over the last eight years. Sadly for Melanie and the family, the struggle is not over. An inquest concluded with an open narrative verdict that Matthew was subject to multiple failings and missed opportunities over a prolonged period of time, by those entrusted with his care. Multiple investigations and reviews were carried out into the North Essex Partnership University NHS Foundation Trust, and into Matthew's care, and they raised even more questions about the care that he received and the nature of his death. I want to raise some of the concerns that were found in the various reviews so that everyone here can get further understanding of the scale of the challenge that Melanie and her family have faced for the past eight years.
At post-mortem, traces of the drug GHB were found in Matthew's system. He had bruises just above both ankles and four to five unexplained needle wounds in his groin. Matthew's paperwork was incomplete and a key worker was not assigned to him. Staff at the Linden Centre had not issued Matthew with a care plan, but after his death they falsified one and backdated it. A number of ligature points in the Linden Centre previously identified for removal were still there. Essex police dropped a corporate manslaughter investigation into the deaths of 25 patients who were in the care of the North Essex partnership trust at nine separate establishments since 2000. The ombudsman investigated, and agreed that Matthew had not been responded to appropriately after reporting a rape, as well as that the Essex partnership's investigation of Matthew's death was inadequate. All this in eight years—the toll it has taken on this family. That is before we consider the prosecution of the Essex Partnership University NHS Foundation Trust by the Health and Safety Executive following the deaths of 11 patients in its care between 2004 and 2015.
The loss of multiple lives and the tearing apart of families were devastating and, most tragically, utterly preventable. We have to learn from those tragic losses so that no other families are affected. I ask the Minister if she will please work with Melanie Leahy on this matter directly, as her predecessor promised to do. I had the honour of speaking to Melanie ahead of the debate. This is her day, Matthew's day and a day for all who are still seeking answers about their loved ones' deaths.
The strength it takes to continue this fight after eight long years is commendable. My heart goes out to Melanie's family and to all who have lost loved ones in similar circumstances, not just at the Linden Centre but in care settings across the country where they were meant to be safe. Many of those people have been mentioned in today's debate, and I thank Members again for their contributions.
A system is not working properly if it takes so long to investigate such a tragedy, and yet answers are still not forthcoming. A grieving mother should not have to plead with people to sign a petition to get answers surrounding her son's death. There should be no barriers to the truth. Inquiries and investigations should not be reserved for the most privileged and those who are most familiar with the system.
On the point about time, I highlight that it has taken over a year to have this debate following Melanie's successful petition. We all understand the mitigating factors that this year has brought, but I would like everyone to consider how every step of the process has been slow. Barriers have been put in place for the family at every single turn.
James Cartlidge
Does the hon. Lady agree that, that being so, it would be very much in the interests of all stakeholders if the inquiry took place, ideally, as soon as possible?
Dr Allin-Khan
Yes, of course it would be in everyone's best interests for the inquiry to take place as soon as possible. After all this time, Melanie deserves some answers. I support her call for a statutory public inquiry into Essex mental health services and for the appointment of an independent chair. It is crucial that lessons are learned from Matthew's case.
I will take this moment to read a few words from Melanie about why a statutory public inquiry is so important to her:
"To come this far and then get fobbed off with a review or general inquiry…would simply take…us all back to square one."
She goes on to ask that the Minister do something real and meaningful that paves the way for truth, justice, accountability and change. There is an opportunity here for the Minister to commit to providing a grieving mother with answers about her son's death, and to learning lessons so that other families do not suffer in this way. We cannot, and must not, delay any further.
Graham Stringer (in the Chair)
We have plenty of time, but I ask the Minister to leave enough time for the wind-up at the end.
17:38:00
The Minister for Patient Safety, Mental Health and Suicide Prevention (Ms Nadine Dorries)
It is a pleasure to serve under your chairmanship once again, Mr Stringer. I congratulate the hon. Member for Hartlepool (Mike Hill) on securing such an important debate on the e-petition calling for a full public inquiry into the tragic circumstances surrounding the death of Matthew Leahy, and the wider issue of deaths in mental health in-patient settings.
I thank all hon. Members present for making such valuable and powerful speeches on such an important issue. I am going to make quite an important announcement. Therefore, if anybody feels the need to intervene, could they wait until I have finished so that there is no ambiguity on the part of the relatives who may be listening, and so that they fully understand what I am saying and the reasons why I am saying it? In this case, that is quite important, particularly for Mrs Leahy and the relatives.
Matthew Leahy took his own life while he was in the care of the NHS. His death was avoidable, as were the deaths of a number of other people in the same facility. While nothing that I or any of us can say today can ease the pain of their families and friends, I am determined that we learn the lessons of these tragic events.
Barbara Keeley
I should like to raise a question with the Minister. She said that Matthew took his own life. Melanie Leahy does not accept that, and I think it would be easier if we used the words "he was found hanging". The inquest recorded an open verdict, so I do not think it is appropriate in this debate to say that he took his own life.
Ms Dorries
Until we have proceeded a bit further, there is a form of words that I have to use at the moment, and that is the form of words. There is absolutely no contention about how Matthew died or the appalling circumstances in which he was found, but I have to use a particular form of words at this point.
As I said, nothing can ease Melanie's pain, or that of the relatives of others who were found in similar circumstances in the Linden Centre. Matthew died in November 2012 while he was in the Linden Centre, a mental health facility in the former North Essex Partnership University NHS Foundation Trust. I understand the devastating impact that that has had on Matthew's family, especially Melanie, whom I have spoken to twice. My heartfelt condolences go out to them now, as was the case when I spoke to them and will continue to be so.
The petition we are debating today calls for a public inquiry into the death of Matthew Leahy on the grounds that past investigations have been inadequate. I first met Melanie last year and I was deeply moved by her story. I took that story away and have continued to work since I first spoke to her. I have since met her again and I have met some of the other families whose loved ones have died at the Linden Centre, and my thoughts are equally with them.
As a result of what I have heard from both Melanie and other relatives, I can confirm today that there will be an independent inquiry into the events at the Linden Centre, covering the period from 2000 to the present day, as requested in Mrs Leahy's petition. This will mean that all the tragic events are given the attention they deserve to ensure that lessons are learned. The scope will not go earlier than 2000 or later than 2020, in order to keep the inquiry focused and to have it report in a timely manner. I consider that 20 years is a more than adequate timeframe to enable us to understand what happened at the Linden Centre and to learn from it.
I am in the process of appointing an independent chair, and I am considering half a dozen leading candidates at present. They will need to be robustly independent and command the confidence of the families. I have chosen to go down the route of an independent inquiry rather than a public statutory inquiry so that we can move quickly. To inform its findings, the inquiry will be able to call witnesses and undertake a close examination of what actually happened to patients who died at the trust. I will also appoint a barrister—a QC—to assist the chair in their investigations, along with a full secretariat. The inquiry will be independent and will consult families on the specific terms of reference. As an independent inquiry, it can determine how it wishes to work with the families so that they are able to give their accounts.
I will not pull any punches. Hon. Members will be aware of the report of the inquiry into the life and death of baby Elizabeth Dixon, published last week, which set out the details behind what it described as a "20-year cover-up". I can cite two more inquiries: the Morecambe Bay investigation and the Paterson inquiry, both of which were independent inquiries commissioned by my Department. They left no stone unturned and were frank in their criticisms.
I expect witnesses to come forward irrespective of the type of inquiry. While public inquiries can compel witnesses to appear and give evidence under oath, importantly, they do not have to give evidence that would incriminate them. However, it is incumbent on all holders of public office, and on health professionals, to demonstrate their fitness by voluntarily co-operating with independent inquiries that seek to protect future patients and offer closure to families.
Barbara Keeley
Will the Minister give way?
Ms Dorries
I will when I have finished this point.
The independent Paterson inquiry—this is an important point—referred to the General Medical Council two doctors who had refused to give evidence to the inquiry, and they are being investigated. It is not the case that if someone in a professional capacity refuses to give evidence to an independent inquiry, they are not held accountable. That is patently demonstrated by the case of the doctors who are being investigated by the GMC.
With the timeframes that we originally set, I had hoped that the inquiry might report within 18 months. As I have today extended its scope to cover a 20-year span from 2000 to 2020, it will take longer, but I hope that it will report its findings within two years. I hope to announce the chair and outline the terms of reference in a written ministerial statement—
Barbara Keeley
Will the Minister give way?
Ms Dorries
I will.
Barbara Keeley
I think it would be easier if the Minister just let me ask the question. It was clear from what my hon. Friend the Member for Hartlepool (Mike Hill) said that Melanie Leahy is not necessarily happy with an independent inquiry. We should be clear about that. There is the question of compelling witnesses to attend.
The Minister is talking about appointing the chair. It is important that, for complete independence, any inquiry has the support of families such as Matthew's. Can she tell us whether she will consider having the position of chair approved by an independent body or, for instance, the Health and Social Care Committee? I do not think people will be comfortable with her appointing the chair. As other hon. Members have said, there has been too much of people appointing other people, and saying, "You review me and I review you." That is an important point.
Ms Dorries
I would like to get the inquiry going. As in all other inquiries, I believe it is the case—I will come back to the hon. Lady with the reasons why—that ministerial responsibility has to be taken.
As I was about to say, I want to get the inquiry under way before Christmas. I would like to make a written ministerial statement to the House before the Christmas recess to set out the terms of reference of the inquiry and to name the chair, with the provision that the inquiry will commence in the second week of February.
Barbara Keeley
The point has been made that Melanie Leahy has campaigned on this for eight years and has done a wonderful job. I understand the reasons for trying to do this quickly, but it is too hasty for the Minister to move ahead and appoint a chair unless she is clear that the families, and particularly Melanie Leahy, are happy with that. The chair has to be seen to be independent. I am not sure that I am particularly happy with what the Minister is outlining.
Ms Dorries
We will go through the processes that we have been through within the Department of Health and Social Care. They are set in law and abided by during every inquiry; that has included all the past inquiries such as the Dixon inquiry, the Paterson inquiry and the Morecambe Bay inquiry. The same protocols and the same process will be adhered to.
James Cartlidge
I am grateful for what the Minister has said. I know that she has battled to get this through because she sincerely believes in the cause and in bringing justice. In my view, it is important that it happens quickly, as I said earlier. My worry is that a statutory inquiry would take months and months to set up. For my constituents the Wades, the key thing is time. The semantics do not matter, as long as what we do finds the truth and probes further. That is exactly what happened with the Dixon inquiry.
Ms Dorries
My hon. Friend is absolutely right that no stone was left unturned in the Dixon inquiry. It took 20 years to conclude, and the summary was devastating in terms of what happened. A nurse can no longer practise in this country, and it was revealed that the trust, doctors and medical staff had engaged in a cover-up for 20 years. It took 20 years of probing, but the inquiry happened. It might be thought that a public inquiry would find out more, but one of the advantages of an independent inquiry is that it can work much more closely with families and take their considerations into account by talking to them and involving them, whereas that would not happen with a public inquiry. As has been demonstrated by each one that has been conducted, an independent inquiry benefits from the relationship built with families and the information that families have been able to input. It is important that families' stories are heard, because some of them are complex, painful and detailed.
Extending the inquiry from 2000 to 2020, as I have done this morning, incorporates both the former trust and the existing trust. A situation occurred recently within the new trust, and we are able to incorporate both trusts and even more families.
Catherine West
The Minister is being generous in giving way. The people running the inquest certainly say that they think a statutory inquiry would be best. Over a 20-year period, many of us have received emails from constituents whose children are now in social care—for example, a young woman who spent time in 11 different hospitals first went in when she was 14. She is still there at the age of 22, at a cost of £700,000 per annum. What learning is there at an interim level? Will the inquiry allow for learning as we go, rather than our waiting five years for the report? In those five years, we could lose another 10 or 15 patients each year, so what are the interim milestones that could give us support?
Ms Dorries
The hon. Lady is absolutely right, and we would hope for an interim report, but it would depend on the chair. Once we have appointed a chair and secretariat and have the ability to appoint a QC, as required for interviewing witnesses, we will have as a Department, as Ministers and as MPs—independent means independent. Nobody can have any influence on the inquiry, but we would ask for an interim report, particularly if there were findings. However, we have to be aware that findings could prejudice something that might come as a result of the inquiry. Learning is absolutely the key, which is why we have established the Healthcare Safety Investigation Branch.
This is an important point at which to mention medical examiners. In April 2019, we introduced medical examiners into hospitals. If there is a death of a patient today, a medical examiner will examine the death certificate—the hon. Member for Tooting (Dr Allin-Khan) will know this, as she is a practising doctor—look into the circumstances of the death and liaise with the bereaved family. We would hope that the circumstances surrounding a death are already improved by the medical examiner system, which incorporates learning too.
It has been some considerable time since there has been any kind of inquiry into a mental health setting, so it is important that we have an inquiry in order to have a 20-year window. We can take those examples, look at the report and take away the learning. If that can be introduced in an interim report that we can take away, that would be excellent. I cannot guarantee that, however, because we do not know what the chair or secretariat will find once the inquiry begins.
I did not finish replying to an earlier intervention. I hope the inquiry will commence in the second week of February, but the chair and secretariat will be appointed before the December recess.
Kevin Hollinrake
Assuming that the independent inquiry finds that somebody is culpable within the management, will the Minister set out what sanctions might be available to her or to the inquiry to hold those people to account?
Ms Dorries
As a Minister, it is not my role to issue sanctions, but if the chair discovered anything even remotely untoward during the inquiry, it would be referred to the police. The inquiry does not cover up criminal activity—that is the case for any inquiry, not just this one. There would be accountability.
Barbara Keeley
I want to touch on inquests. Given the new evidence in Matthew's case and many others, does the Minister think it would be appropriate to revisit inquests that returned open or narrative verdicts? That can be important to the families.
Ms Dorries
I cannot comment because, as the hon. Member knows, inquests and coroners are under the jurisdiction of the Ministry of Justice. Coroners are almost in the vein of judges, so that is a legal question for the MOJ to answer; it is not within the jurisdiction of the Department of Health and Social Care. Our job is to launch an inquiry, ensure that it has a robust, independent chair, that it is fully funded and staffed, that it establishes terms of reference in consultation with as many families as possible as soon as possible, and that it commences as soon as possible.
As hon. Members will be aware, the Health and Safety Executive has investigated how the trust managed environmental risks from fixed potential ligature points in in-patient wards between 25 October 2004 and 31 March 2015. As a result of the investigation, the Health and Safety Executive has brought a prosecution against the Essex Partnership University NHS Foundation Trust, which was formed following the merger of the North Essex Partnership University NHS Foundation Trust with the South Essex Partnership University NHS Foundation Trust. I am sure hon. Members will understand that I cannot go into the details of those proceedings as they are before the courts.
I could say quite a bit about the petition and the cases, but I will conclude to let the hon. Member for Hartlepool have the final say. I thank Melanie Leahy for her years of campaigning. I hope she will understand that a robustly independent inquiry that is unafraid to turn over stones and work with the families, calling those it sees fit to give evidence, is a way to discover what has happened at the Linden Centre over the past 20 years, including what culture developed, what practices were in place and what happened to those young boys who died there. As my hon. Friend the Member for South Suffolk (James Cartlidge) said, what is important is that we get to the truth. It does not matter what the framework or structure is; what matters is the truth, knowing how those young boys died, what happened and what we can learn from those dreadful mistakes.
17:57:00
Mike Hill
I thank the Petitions Committee and its staff for their hard work in the background for all Members in the Chamber, who in representing the interests of their constituents have conducted themselves in dignity and with passion. I also thank my hon. Friend the Member for Tooting (Dr Allin-Khan) and the Minister for their contributions. I cannot say whether Melanie will be happy with that, but she clearly called for a statutory inquiry.
Question put and agreed to.
Resolved,
That this House has considered e-petition 255823, relating to deaths in mental health care.
17:58:00
Sitting suspended.
Please follow and like us: