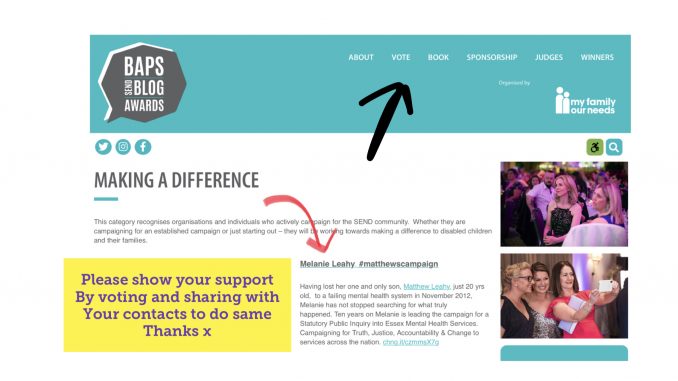 PLEASE SHOW YOUR SUPPORT BY VOTING FOR MELANIE LEAHY……TAKES SECONDS X …Click link
Melanie Leahy (#MatthewsCampaign) has been nominated for the popular "Bloody Awesome Parents Awards" (BAPs) for 2021. The awards, now in their fifth year, are run by Bringing Us Together and My Family, Our Needs.

The shortlisting recognises Melanie's work and dedication to create a lasting legacy for her late son and the current public campaign for the United Kingdom's first Statutory Public Inquiry into Mental Health Services.
Melanie has undertaken a gruelling nine-year campaign for truth surrounding the tragic loss of her late son Matthew which grew into a far wider campaign.

Matthew Leahy died in hospital in what ought to have been a place of safety back in November 2012 aged just 20. Almost nine years on Melanie fights for truth, accountability and change for mental health services across our nation. Having once stood alone, Melanie has been joined by over 70 Essex families, eminent experts, the communities of SEND/Mental Health and Addiction and now has seen public support widen and grow stronger with every passing day. https://curementalhealth.co.uk/
Our government continues to fail our most vulnerable regularly, as we continue to read of new lives lost and tragedies which may have been prevented. Melanie, and the other families, have been offered an independent Inquiry but its scope is too limited to achieve the goal of finding answers and preventing new tragedies.
Only a Statutory Public Inquiry compelling witnesses to attend and give their evidence will get the answers the families deserve. Hospital and community Mental Health services need to be compelled to attend to find out why we are losing an increasing number of our most vulnerable in the community.
Grieving families stand side by side with Melanie and refuse to engage with the limited inquiry offered until the Government grants Statutory status.
The BAPS awards showcase valuable contributions SEND (Special Education Needs) bloggers make in raising awareness of additional need, both within the SEND community and across wider society. This is the fifth year of these awards created by a group of parents with SEND children wanting to recognise what they call 'Bloody Awesome Parents" as they deal with what are huge new challenges.
Melanie has been recognised within the "Making a Difference"category and commenting on the shortlisting Melanie said
"Being recognised has given me such a boost at the end of what has been an exhausting and heart breaking nine years. I want all those who are suffering to know that we hear you and that your communities have united to speak up. We won't rest until we get the inquiry that can change outcomes and save lives that have not been valued highly enough. Too many of our SEND vulnerable are dying young because of the challenges they face with their mental health and service failure, alongside our older adults and dementia patients too. We simply won't accept this anymore as an inevitable reality, because it is not."
Commenting on Melanie's shortlisting, Nina Ali, Melanie's solicitor at Hodge Jones & Allen said
"I am delighted that Melanie's determination and drive to get to the real truth around Matthew's death has been recognised by this amazing Parent Group. No mother should have to go through all the challenges and hurdles she has faced in order to get basic answers."
The Awards Ceremony takes place on 3 November 2021. Voting is open to the public until 17th September.
Please follow and like us: