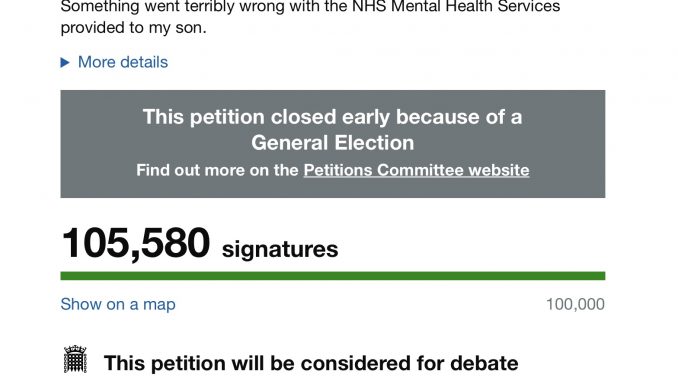 A MUM'S petition to launch a public inquiry into her son's death has reached 100,000 signatures despite being closed early by Parliament.
Melanie Leahy, of Tolleshunt Knights, launched the petition in a bid for her son's Matthew's case to be debated in Parliament.
Matthew Leahy was found hanged in Chelmsford's Linden Centre in 2012, aged 20, after being admitted for a possible delusional disorder caused by cannabis use.
Three nurses were disciplined by the Nursing and Midwifery Council for falsifying vital care plans for Matthew, which never existed while he was in their care.

An inquest into Matthew's death found there had been multiple failings.
Ms Leahy's petition had to 100,000 signatures before its deadline on November 23 to be considered for debate in Parliament.
However the November 23 deadline was cut short to November 6 because of the upcoming General Election.
Melanie said: "I'm absolutely exhausted and overwhelmed at the amount of support that has come through.
"I really don't know how this is going to pan out but I'm not giving up and I'm not going away."
The Petitions Committee said the petitions website is part of the official work of Parliament, so it had to stop.
New committees will be appointed by the new House of Commons and until then, there are no chairs or members of committees.
Melanie added: "My son has died.
"I have to keep doing this to stop it happening again and again.
"It's an onward battle, and I will now continue with the support of over 100,000 people.
"There must be accountability. We now wait for, early next year, a decision by a health and safety executive to either prosecute or not prosecute the trust.
"But even so, that still isn't pushing forward the changes that are necessary for others."
To follow Melanie's journey, visit www.curementalhealth.co.uk.
Please follow and like us: