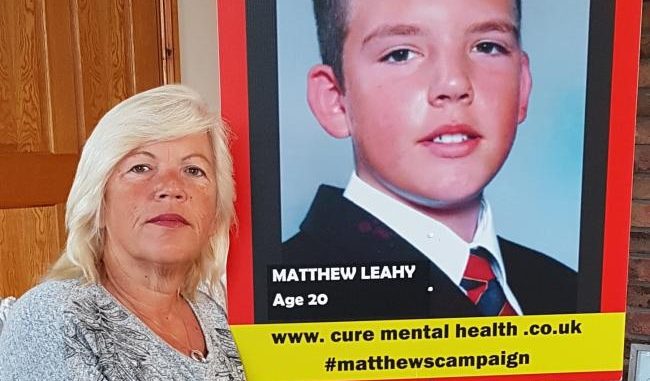 Campaigner – Melanie Leahy has been campaigning for a public inquiry into her son's death at the Linden Centre
A MOTHER has renewed her calls for a public inquiry into her son's death at a mental health unit and wants a review of services across Essex.
Melanie Leahy's son Matthew was found hanged in Chelmsford's Linden Centre, age 20, after being admitted for a delusional disorder caused by cannabis use.
Since his death, which took place seven days after him being admitted, Mrs Leahy has been campaigning for a public inquiry into the incident.
She has signed up London legal firm Hodge Jones and Allen Solicitors in her fight and both are now calling for investigations into the deaths of psychiatric patients across Essex.

Melanie, who lives in Maldon, said: "I know I still don't have the truth about the circumstances in which he died.
"This leaves a lingering injustice causing enduring and damaging pain."
She says families from across Essex have come forward to share their stories, and wants them to join her call for a public inquiry for Matthew and into mental health services across the whole county.
In 2015, an inquest jury found Matthew was "subjected to a series of multiple failings over a long period of time" at the Linden Centre, which was then run by the North Essex Partnership University NHS Foundation Trust.
Jurors also concluded "relevant procedures and processes were not adhered to."
Three nurses were disciplined by the Nursing and Midwifery Council for falsifying vital care plans for Matthew, which never existed while he was in their care.
A petition set up calling for an inquiry into his death in November garnered more than 105,580 UK signatures, enough to warrant debate in Parliament.
Melanie said: "I'm so happy to announce the Hodge Jones and Allen legal team are now on board to support all of us failed across Essex mental health services.
"This call for a public inquiry includes child, adolescent, adult, elderly, veterans and prison mental health services in Essex."
A memorial service is being held at Chelmsford's Bell Meadow, in Central Park, on Saturday.
Free legal services are being offered to families who believe their loved ones were failed at mental health services across Essex.
To follow Melanie's journey, visit curementalhealth.co.uk
https://www.gazette-news.co.uk/news/18661815.renewed-calls-inquiry-matthew-leahys-death-mental-health-unit/

Please follow and like us: