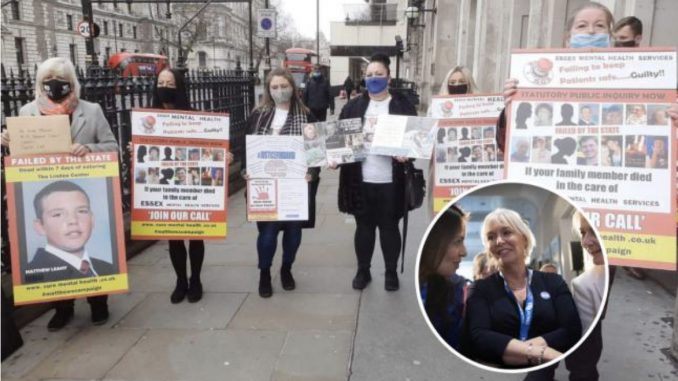 A PLEA for a full inquiry into mental health services in Essex has been rejected.
Nadine Dorries, Minister of State for Mental Health, Suicide Prevention and Patient Safety, has dismissed calls for a statutory inquiry involving 67 families.
In February, the families who have campaigned for years, wrote again to the minister asking her to overturn her decision to hold a non-statutory inquiry in favour of a full statutory inquiry.
This campaign comes after a number of alleged failings in care which led to the death of 11 patients.
READ MORE: Mum still fighting for truth seven years after son's death
The patients died between 2004 and 2015 while in the care of the North Essex Partnership Trust.
The trust admitted it had failed to "manage fixed ligature points in its inpatient units" at a hearing at Chelmsford Crown Court.
Melanie Leahy's son Matthew was found hanging within a week of being admitted to the Linden Centre in Chelmsford in 2012
Mrs Leahy, who lives in north Essex, is leading the group calling for a statutory inquiry but its application has been refused.
According to the group, Nadine Dorries' lawyers responded to the families' letter in just four sentences to say Ms Dorries "refuses to engage further on the request" for a statutory inquiry.
Mrs Leahy said: "If Nadine Dorries was even half the individual the UK needs to help tackle mental health, she would have pushed for a full public and statutory inquiry – that's the only way we're going to get to the bottom of what happened.



"Ms Dorries ignored every representation we made and her abysmally brief response has not addressed any of our points."
The Department for Health and Social Care expects the non-statutory inquiry to be formally established this month and report in the spring of 2023.
A spokesman said: "Every death in a mental health facility is a tragedy, which is why we launched an independent inquiry into inpatient mental health deaths across Essex between 2000 and 2020.
"It is vitally important we learn lessons from these events that can be applied to improving care across the wider NHS and protecting patients in the future."
Credit By Pape GueyeTrainee Reporter :article
Please follow and like us: