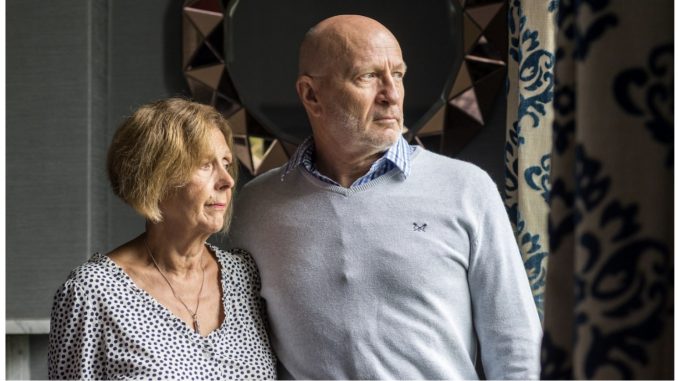 Robert and Linda Wade lost their son, Richard, to suicide 12 hours after he was admitted to a mental health facility CREDIT: Tony Buckingham
An inquiry into a series of deaths at a mental health service must meet key conditions if it is to "bring an end to the suffering" of those affected, a Suffolk family has said.
Government ministers announced that an independent review is being commissioned into the "serious questions raised by a series of tragic deaths of patients" at the Linden Centre between 2008 and 2015.
The former North Essex Partnership Trust (NEPT), which ran the Chelmsford-based unit, has faced allegations of numerous failings in patient safety.
On Friday, South Suffolk MP James Cartlidge, in calling for the inquiry, told the House of Commons there is strong evidence of both systemic and regulatory failure.
He raised the case of Great Cornard residents Robert and Linda Wade, whose son Richard took his own life while in the care of the Linden Centre in May 2015, aged 30.
Mr Cartlidge stated that, despite the Care Quality Commission (CQC) being aware of a similar death in the very same room three months prior, no investigation had taken place.
"Richard identified he was at risk to himself and asked the mental health service for assistance," he said. "Due to multiple missed opportunities for existing problems to be rectified, he lost his life.
Now his family are being denied the justice they deserve from patent failures by the CQC in the statutory time limit that has now closed."
Robert Wade, Richard's father, expressed his gratitude to Mr Cartlidge for his support, but added that the review must have total independence and strong statutory power, if progress is to be made.
We have lived a Groundhog Day every day for the last five years," Mr Wade told the Free Press.
"To us, if we're going to finally bring an end to the suffering because of what happened, it is essential that witnesses can be compelled to give evidence and further documentation can be demanded. If these conditions can't be met, all we will do is go back to where we started."
Ministers have confirmed that families of those who died at the Linden Centre will be engaged with, in setting the scope and terms of reference of the inquiry.
The announcement of the review comes after the Health and Safety Executive opened legal action against the facility's managing trust.
The pending action alleges the NEPT failed to address the risks of "fixed potential ligature points" within inpatient units at the centre, after a number of patients died while in its care.
Richard had been admitted to the Linden Centre for less than 12 hours before taking his own life, according to his father, who claimed the facility had failed his son "clinically and on a human level".
He told the Free Press he believes a fully independent and comprehensive inquiry is the only way to move towards reforms of patient care and restore public trust in the local mental health services.
"We know pretty well what happened to Richard," said Mr Wade. "But much of that is not in the public domain.
"The only way we can get that evidence is to have the statutory power to demand it and compel witnesses to take the stand.
"This is the acid test. If we have nothing more than a review of the current documentation, I can assure you we know this in detail already.
"There are people who need to answer questions on what they did and why they did it. After that, we can start to look at the changes that need to take place.
"If there is a true and open inquiry that lays bare everything that went wrong, an honest view can be taken on how to put things right."
Ahttp://By Thomas Malina- thomas.malina@iliffepublishing.co.uk
Please follow and like us: