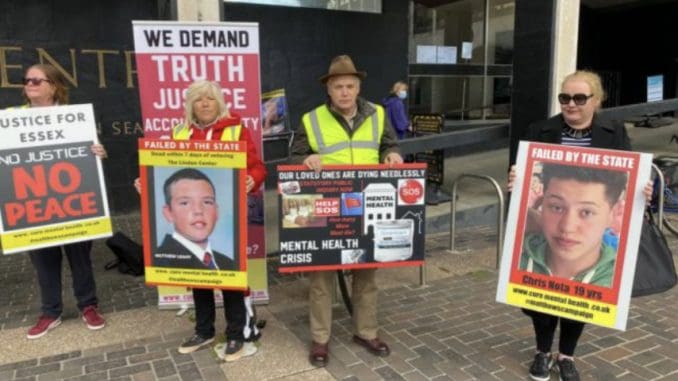 FAMILIES desperate for their voices to be heard stood in solidarity yesterday as Ofsted begun their re-inspection into Southend's SEND services.
PLEASE SIGN THIS PETITION IN SUPPORT :solidarity 👉http://chng.it/v6HH5jhZ
Ofsted is revisiting the special education needs and disabilities services offered across Southend, after their last inspection in 2018 found "significant weaknesses".
Julia Hopper – whose son Chris Nota died, aged 19 after he fell from the Queensway bridge in July 2020 – organised the demonstration outside the Civic Centre.
Julia has joined around 700 families to form the Send the Right Message group, who are campaigning for improved mental health support and improvements for children with special educational needs.
Julia said: "We're exhausted but we had to come.
"I knew my son was going to die and I asked for help. We have had no support.
"Nobody asks you to overlook a child.
"We don't have a chance to meet with Ofsted this year.
"It's beautiful and healing that people have got together and there's a chance of hope in the darkest corner where you will find our disabled children. The darkest most hopeless corner."
Jacqueline Harvey also attended the public stand after it took two years for her six-year-old daughter to be diagnosed with autism.
Jacqueline said: "It made me so cross that it took that long to get help when they say it will only take seven months.
"I want everyone to know that we need help and we need it now."
Melanie Leahy has been fighting for a full statutory enquiry into the death of her son Matthew after he was found hanged in the Linden Centre, Chelmsford, in 2012.
Melanie said: "The only way we're going to get justice is if all staff are required to attend court. A full statutory enquiry is the only way.
"It was touching that people came today and I think we're raising awareness and it's giving people the power and voice that they need. These families have never got to feel isolated again because we are uniting."
Simon Cross, a patron of Send the Right Message, warned prolonged diagnosis in childhood can have a huge impact on mental health in adult life.
He said: "This protest is about the fact that mental health needs immediate attention and measures in place. If not, it can lead to mental health problems in later life."
Credit: By Chloe Rose @chloerose__xoTrainee Reporter Echo Southend
Please follow and like us: