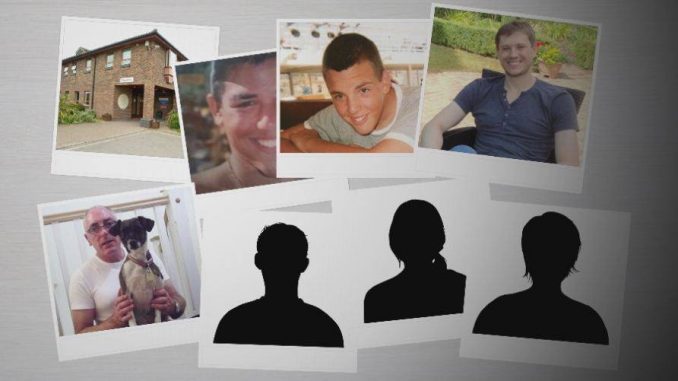 EXCLUSIVE: DEATHS AT MENTAL HEALTH TRUST INVESTIGATED BY POLICE
Channel 5 NewsMay 19, 2017 · 8 min read · Shared with Public
by Catherine Jones, Health Correspondent
"Seven days after admission my son was dead."
– 5 News can reveal that police are now investigating 'a number of deaths' at a mental health unit in Essex– Seven inpatients have died at the unit since 2001– 5 News has seen evidence that safety measures were not followed and recommended improvements were not made– The inquiry is in its 'early stages', and detectives are working with officials from the Health and Safety Executive to identify whether deaths may have a linkA 5 News investigation can today reveal an NHS mental health trust in Essex is being investigated by police over the deaths of a number of inpatients at one of its units. The hospital, called the Linden Centre, was at the time run by the North Essex Partnership Trust. Seven patients have died at the Linden Centre since 2001, all by attaching a ligature to fixtures or furniture on the wards.
Essex Police have told 5 News they are "conducting initial enquiries into a number of deaths which have occurred at the Linden Centre since 2000. We are investigating a number of deaths to ascertain whether there were any criminal failings of persons connected to the organisation."
In 2008, 20-year-old Ben Morris was found hanged in his hospital room after attaching a ligature to a wardrobe. Since his death his mother Lisa Morris has been searching for answers to what happened. 5 News has obtained a copy of the guidelines the trust drew up in 2006 to ensure fixtures and fittings weren't a risk to suicidal patients on the ward. Those guidelines stated that the wardrobe, especially the handles, were low risk only because it was not fixed to the wall. Ben Morris was admitted two years after those guidelines came into force, and at some point before his admission the wardrobes were fixed to the wall. But the trust failed to reassess the greater ligature risk the wardrobe handles now posed.
Ben's mum Lisa told 5 News: "If they had removed them (the door handles) in 2006 or 2007 my 20-year-old son might have all his life left and be with his daughter now. Something so, so simple; not done. How much would it have cost? It wouldn't have even cost the trust anything to take the handles off. I just think, why? "Your whole world stops and it is really, really hard to carry on with life. All the dreams, all the plans you had with your child have gone. It's nearly nine years later now for me and it is not any easier."Following Ben's death, the Trust wrote an action plan, promising to focus on "Assessment of Environmental Risk", like dangerous furniture and fittings. But by 2012, two more patients had died. A man who used a window to attach a ligature, and 20-year-old Matthew Leahy who was found with a ligature attached to a door.
After these deaths in 2012, the Trust wrote two further action plans to again ensure lessons were learnt. In Matthew's action plan, one of the trust recommendations was to "reduce the possibility of this method of suicide." 5 News has seen a letter written in February 2015 by the then Chief Executive of the trust to Priti Patel, the local MP. It came after the inquest into Matthew's death and the Chief Executive assured Ms Patel that "changes have been made to ensure patients are safe and secure and so prevent any similar occurrence in the future". Five days after this letter was written another patient, John Beecroft, was found hanged at the Linden Centre. Three months after this death, 30-year-old Richard Wade was also found dead at the hospital.
The inquest into Richard's death has just concluded at Chelmsford Coroner's Court. The jury have heard how Richard hanged himself using an item the staff had failed to confiscate when he was admitted a few hours before. Richard's parents had just arrived to visit him when he was found. At an inquest into Richards death a jury found that: "The state failed to protect Richard Edward Wade's life. Richard's risk of suicide was not properly or adequately reviewed.""Adequate and appropriate precautions were not taken to manage Richard's risk of suicide."Before Richard had died, inspectors from the Care Quality Commission had visited the Linden Centre in response to the death of John Beecroft. The CQC commented that: "the Trust's programme for managing ligature risks was not available. We noticed a number of potential high risk ligature areas around the ward." The CQC continued: "following a serious incident in 2012 an action point was to review door hinges to prevent potential use as ligature points. We found that whilst the Trust had investigated and trialed options, a final decision had not been taken. A senior manager told us funding was agreed 2015/16." In August 2015, three months after Richard's death, inspectors from the Care Quality Commission still found "numerous ligature risks" and said (in a report published Jan 2016): "The Trust leadership style did not promote sufficient grip or pace to bring about changes where necessary. Changes took a long time to implement….ligature free doors had not been installed or even commissioned despite these having been agreed some time ago." The CQC issued a warning for the trust to take action. 5 News has examined the board papers of the Trust and found assurances that changes had been made. In September 2015, the chief executive at the time assured one governor "that works to the doors had been completed during July and August 2015; further improvements were planned." Despite this, in September last year the Trust was re-inspected and a report published in December. The CQC issued them with a second warning for failing to manage ligature risk on wards. The report said: "Ligature points remained across all wards and included high level door closers, door handles, radiators and window handles. The Trust said they would take actions to make improvements to reduce and manage ligature risk." Since Matthew's death his mum, Melanie Leahy, has been investigating the Linden Centre and campaigning for change. On the police investigation, Melanie told 5 News: "It has been such a hard slog. It's the length of time these things take but I think it's a move in the right direction. What a battle it has been to get this far and I don't think it is going to be over any day soon. When a patient goes in there in a desperate state they need to be safe and it needs to be instant safety.
"I miss my son, what can I say. I had one baby – that's my boy. I miss everything about him. Even when he was having bad times I'd have him back tomorrow, today, now having a bad time. But when the good times were there he was just a treasure. "Landlords get prosecuted for less. For not having a gas certificate at the right date. If they are not doing their job right then they should be prosecuted. I think it is necessary because people have got away with this for years. Until they realise they cannot continue the way they are – it's not just happening in the Linden Centre, it's happening all over the country – and it cannot continue. Someone needs to be accountable and the only way is taking it to the top. I'd like to see them all in court." The Trust involved, North Essex Partnership University NHS Foundation Trust, has now merged with another Trust to become Essex Partnership University NHS Foundation Trust. In response to the 5 News investigation the Trust have said: "The new Essex Partnership University NHS Foundation Trust extends deepest condolences to the parents, family and friends for the loss of their loved ones. We fully understand that this has been, and remains, an extremely difficult time for them all. "The history of serious incidents of self-harm at the Linden Centre is a matter of great concern that the new Trust has already recognised must be addressed. "The Trust will fully support any police and HSE investigations." The Trust also told 5 News that they are "undertaking a full ligature audit across the entire Trust" and have "set aside significant funding" to act on the results. It is also committed to reviewing training including risk assessments and communications. Lisa and Melanie will continue to fight for the justice they feel their sons deserve. Lisa says: "It is just heart wrenching because when you go through all that inquest you really do believe that the recommendations made are going to put things right and you will hopefully hear good, positive news that other patients are getting the care they need. We can't give up on this."
Please follow and like us: