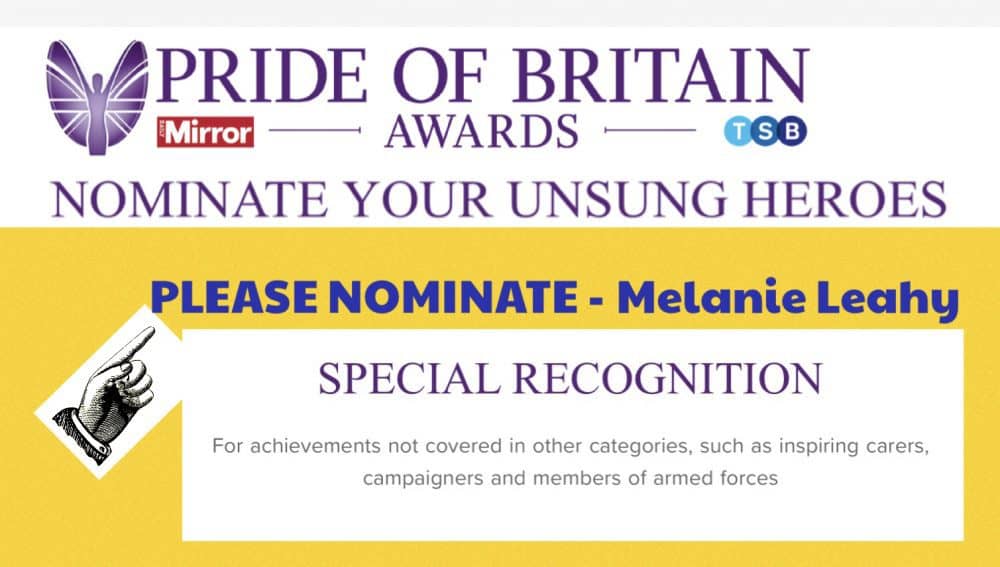 A Personal request from Julia Caro
CLICK HERE👉👉👉Melanie Leahy (Nominations for SPECIAL CATEGORY)
Please find above the link to read about and nominate Melanie Leahy for the Mirror Pride of Britain Award (in the SPECIAL CATEGORY heading)
Melanie came to my notice via social media like a thunderstorm approximately three years ago.
My colleagues and I immediately felt deeply drawn to both the woman and the campaign since we were well aware that our autistic community are exceptionally vulnerable.
Melanie herself had lost a son (her precious Matthew) and I had lost a brother many years ago.
We knew that these deaths could have been prevented and we were absolutely struck by the conviction and determination of this woman who had taken the hand of so many grieving families and had begun to lead and encourage them to seek answers and create a strong legacy of safety in the name of those who had been lost to Mental Health services in Essex.
Melanie brought a large community together and introduced the notion that we could make something positive come from the devastating loss of our most vulnerable. We could find answers and we could save the rest.
About a year after I met Melanie the worst happened in my own family and my oldest son (who was vulnerable and who had been suffering) was lost via these services. It was almost impossible to us as a family to survive but I was able to cling on to the task at hand and was supported by those who had joined us.
Melanie has to date secured a strong community around her and has fought tirelessly to raise awareness and personally support the grieving and has won an Independent Inquiry into Essex MH services with 105,580 signatures on a UK government curtailed petition. Her fight is not done because this inquiry needs to be extended to include community MH services and needs to be upgraded to statutory status in order that witnesses are compelled to provide the evidence that is required to make the most difference.
Please join me in proudly nominating this great lady and her history making campaign. This raises awareness of the ground breaking campaign (#matthewscampaign) and will also give her the lift that she needs, having also just lost her partner of 20 years to the same services that failed her only child.
Let's help her to make the last lap to victory.
Please nominate her in the "Special Category."
Many thanks
JULIA CARO