29th January 2016
Press release
Monitor opens investigation at Essex mental health trust
Monitor has opened an investigation on behalf of patients into North Essex Partnership University NHS Foundation Trust.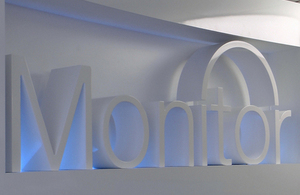 The health sector regulator has opened an investigation into North Essex Partnership University NHS Foundation Trust (NEP) because of concerns over quality of the organisation's services and state of its finances.
Monitor's investigation comes after a recent inspection by the Care Quality Commission rated services provided by the trust as "requires improvement".
Monitor is also concerned by a decline in the trust financial performance. NEP- a specialist mental health trust that provides services to a million people across Essex – has predicted an underlying deficit of £3.3 million for the current financial year.
The regulator's investigation will examine the causes of these problems. It will also enable Monitor to ascertain what support the trust needs to improve things for its patients.
Marianne Loynes, Regional Director at Monitor, said:
We have launched this investigation to better understand the challenges North Essex is facing in providing its patients with high quality care. We also want to understand how the trust can return to a healthier financial position.

Our investigation will explore how the trust can become better at quickly developing and implementing effective solutions to these challenges.
No decision has been taken on whether or not regulatory action will be required, and Monitor will announce the outcome of its investigation in due course.
March 2016
CHANGE IS A FOOT!!!!!!!!!!!
THE GOVERNMENT WATCHDOG MONITOR HAS COMPLETED ITS INVESTIGATION INTO NORTH ESSEX PARTNERSHIP?
IF THE CHANGES REQUIRED ARE NOT DONE…….MONITOR WILL ORDER THEM TO BE DONE..…
AT LAST SOME GOOD NEWS!!!!!
Monitor has now completed its investigation (Results lower down this page)… and the trust has been asked to tell it how it will improve.
A spokesman said it will have around six months to show how these changes have been implemented or Monitor will order it – as opposed to ask it – to make changes.
It has been asked to show how it manages its finances.
It should also show how it is working with other care organisations to improve patient care.
The spokesman added: "The pace that it makes improvements are key – we want to see improvements quickly."
Marianne Loynes, regional director at Monitor, said: "The Care Quality Commission's report flagged serious concerns around the effectiveness of the trust's leadership and quality of its services, demonstrating a need for urgent action to implement the right improvements. Monitor is stepping in to offer the trust the support it needs to pick up the pace and start making long lasting improvements."
——————————————————
New league launched to encourage openness in the NHS by government Monitor.
9 March, 2016
North Essex Partnership rated within the bottom 32….…
POOR REPORTING CULTURE……
No surprise there……cover up after cover up…..it's time staff came forward and told the truth!!!!!
NHS trusts and foundation trusts will be publically ranked on their openness and transparency under a new 'Learning from Mistakes League' launched by Monitor and the NHS Trust Development Authority today.
Data for 2015/16 – which is drawn from the 2015 NHS staff survey and from the National Reporting and Learning System – shows that:
18 providers were outstanding;
102 were good;
78 gave cause for significant concern; and
32 had a poor reporting culture.
The league table has been drawn together by giving providers scores based on the fairness and effectiveness of procedures for reporting errors, near misses and incidents; staff confidence and security in reporting unsafe clinical practice and the percentage of staff who feel able to contribute towards improvements at their trust.
NHS Improvement (which will bring together Monitor, the NHS TDA, the National Reporting and Learning System and the Patient Safety Team) will work with providers at the bottom of the league to assist them with improving their openness and transparency.
Mike Durkin, National Patient Safety Director at NHS England said:
"Learning from mistakes saves lives. In order to properly learn from mistakes we need to create a culture with openness and transparency at its heart.
"By letting trusts know how well they are doing compared with their peers, we want to start a conversation involving clinicians, managers and supporters of the NHS about what we can all do to make all parts of the NHS as safe as they can be.
"One of the most important duties of us all as clinicians, managers and supporters of the NHS is to cultivate an environment in which learning is at the heart of all we do. This goes far beyond education and training, important as they both are; and it can all too easily be forgotten as we wrestle with the day-to-day challenges of providing care."
We would like all providers to reflect on the data. We know that data cannot ever tell the whole story, and that is true even of data that is rooted in the insights of staff. But it can start a discussion, and, yes, a process of learning.
'In that spirit, we are keen to emphasise that this is a first attempt at a Learning from Mistakes League. We also want to learn and improve, and would be open to suggestions from colleagues about how we might make this better in future'
Professor Sir Mike Richards, CQC's Chief Inspector of Hospitals said:
"We welcome this new commitment to embedding an open and learning culture in NHS hospitals. There can be no improvement without real transparency on performance combined with the desire to understand and learn from the resulting information.
'CQC will support this commitment by assessing Trusts' learning culture as part of our 'well-led' domain, using information from the NHS Staff Survey on openness and learning, combined with information from NRLS."North Essex Partnership near bottom of table . Surprise. surprise for poor reporting culture!!!!!!