PHSO report into the appalling care experienced by my son Matthew Leahy…ultimately leading to his death whilst in the care of the state!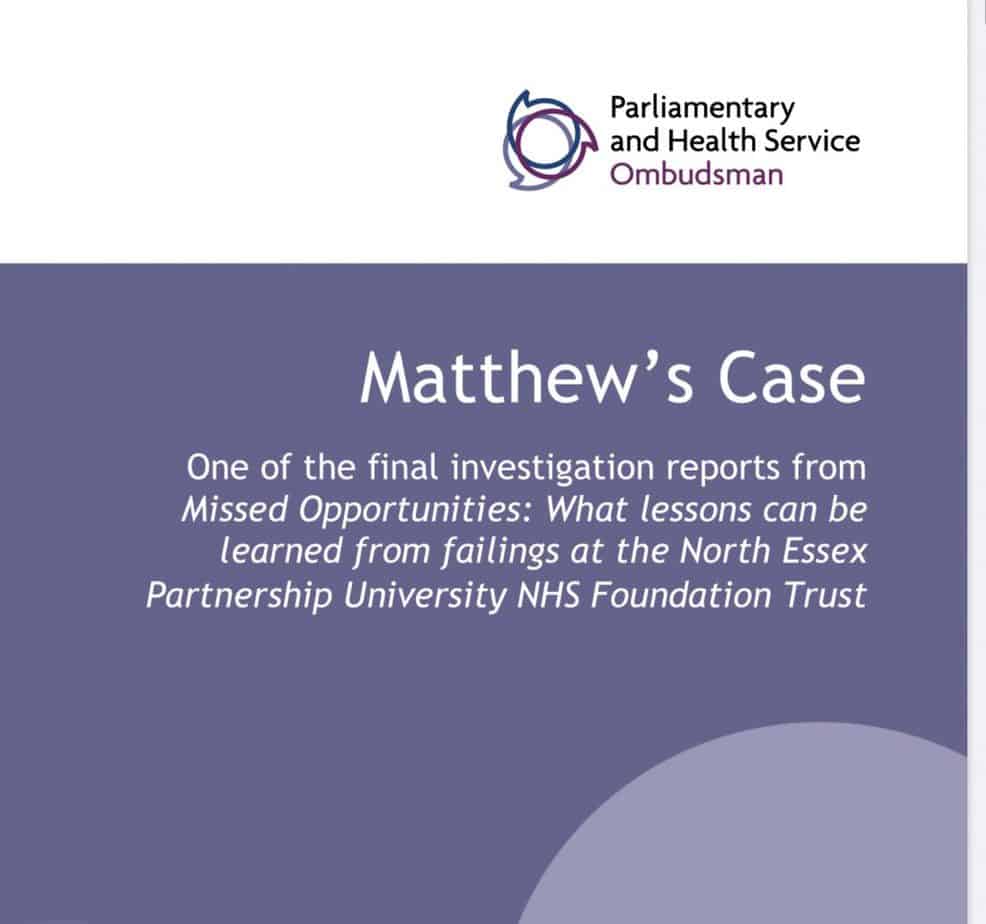 The PHSO is the last port of call in the complaints process. To get this report to this stage was just brutal. Four and half years and it's full of inaccurate information and misses important areas which led to the needless death of Matthew. It's the worse cover up of all. I continue my push for a Statutory Public Inquiry. Report here.
We find North Essex Partnership Trust actions fell so far short of applicable standards that they amount to service failure or maladministration.
Specifically:
• De-escalation techniques were not considered or used before rapid tranquilisation was administered on 8 November 2012.

• Mr Leahy was not properly allocated a key worker, nor was his care adequately planned.

• Mr Leahy's physical health needs were not adequately looked after, including his nutrition.

• Staff did not always engage with Mr Leahy adequately.

• Mr Leahy's observations were not properly managed.

• The assessment and management of risk, including environmental risk, was not rigorous enough.

• Adequate action was not taken when Mr Leahy reported being raped.

• Clinical record keeping was not robust enough.

• Overall, NEP's investigation of Mr Leahy's death was not adequate.

• The conclusion of the SI panel report is at odds with its findings, and the recommendations are not sufficiently robust or comprehensive.

• The SI panel investigation failed to provide assurance that NEP had learnt from Mr Leahy's death and improved patient safety.

• NEP did not fully address all the safety problems at the Linden Centre in a timely way, despite indicating otherwise in correspondence to Ms Leahy and her MP in February 2015.


We have found service failure in many key areas of Mr Leahy's care. Knowing that Mr Leahy did not receive an adequate standard of care has caused significant and ongoing distress to Ms Leahy. At the point Ms Leahy came to us, she had no confidence that things had changed for the better because CQC inspections were still finding some of the same problems. This added to her distress and frustration.
We have found maladministration in respect of NEP's recordkeeping, its investigations into Mr Leahy's death, and the information provided to Ms Leahy about the extent of the safety improvements made.