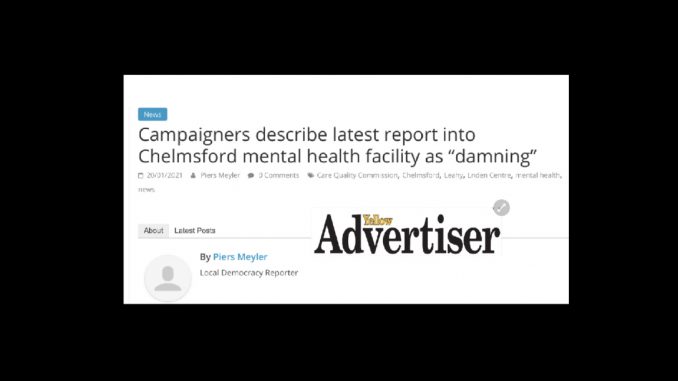 An inspection report into services at a Chelmsford mental health facility reinforces the need for a statutory public inquiry into Essex mental health services, campaigners have said.
The Care Quality Commission (CQC) report comes following their latest inspection of the 17 bed Finchingfield ward at the Linden Centre.
It concluded that the Essex Partnership University NHS Foundation Trust should make improvements to its psychiatric intensive care units.
Melanie Leahy has been campaigning for a statutory public inquiry after her 20-year-old son Matthew died at the Linden Centre in November 2012.
At the end of 2020, Mrs Leahy and other families rejected an offer for an independent inquiry, standing firm for a statutory public inquiry which would ensure that individuals called to give evidence are obliged to attend and must give evidence under oath.
Their position comes amidst another report from the CQC published last week where concerns were raised that individual staff did not carry out their duties as required by patient care plans and trust policy.
It also reveals that staff did not carry out observations in the garden area as required to maintain patient safety. This "poor practice" is said to have contributed to incidents of patients absconding from the ward.
The report adds that staff made clinical decisions which were outside of their role and responsibility, and did not keep accurate high quality records of patient care and managers did not check the quality and accuracy of notes.
There have been concerns over the number of deaths of patients under the care of Essex mental health services. The most recent being 23-year-old Jayden Booroff who died in October after he fled the Linden Centre.
Commenting on the recent report, Mrs Leahy said: "Yet another damning report, after yet another recent patient death.
"How many more must die before the call for a comprehensive statutory public inquiry from not just myself, but so many other families in Essex and across the country is listened to?
"Our families still await a response from Mrs Nadine Dorries and are hugely affected by the ongoing delays.
"So many years, multiple deaths and clear evidence provided that show Essex mental health services have ignored dangerous practices across the county that have led and continues to lead to preventable deaths.
"We are determined to get to the truth through the full scrutiny of a statutory public inquiry.
"We must see change, justice and accountability without further delay."
Priya Singh, a solicitor at Hodge Jones & Allen Solicitors supporting the families, said: "This is frightening. Why are such vulnerable people still being exposed to such high risks?
"Despite all the investigations, reports, recommendations and served notices to date, there are still shocking failures in protecting the most vulnerable in our society.
"Surely there is now more than sufficient evidence and justification for the government to listen to what Melanie Leahy and numerous other families are calling for and to grant – without any further delay – a full statutory public inquiry into failings of mental health care in Essex."
The Essex Partnership University NHS Foundation Trust said it has taken immediate action to remedy safety concerns raised by the CQC, which has included making physical changes to the ward environment, ensuring staff follow procedures correctly, and providing leadership support.
The actions taken are part of new safety measures being brought in across the trust by new leadership.
Chief Executive of EPUT, Paul Scott, said: "Safety is an absolute priority and we have taken immediate action to make the physical environment safer and improve practices to ensure that staff are supported to provide consistent, safe, high quality care.
"There is still more to do, and we have accelerated work to improve the safety of services, including investing in digital innovations that will support staff to monitor patients' safety and wellbeing."
The trust is rolling out a new piece of technology called Oxehealth's Oxevision to support patient observations. This uses secure optical sensors to help remotely monitor patients' pulse and breathing rates, and alerts staff if they display activity or behaviour that may present a risk to their safety.
EPUT says it has made significant investment in new safety measures across its mental health inpatient services since it was established in 2017, and a new trust-wide inpatient safety strategy is also being developed with stakeholders, which sets out priorities for further improvement.
credit
Piers MeylerLocal Democracy Reporter. Yellow Advertiser
Please follow and like us: